Marriyum Aurangzeb brands Imran Khan as 'foreign agent' & 'lying political terrorist'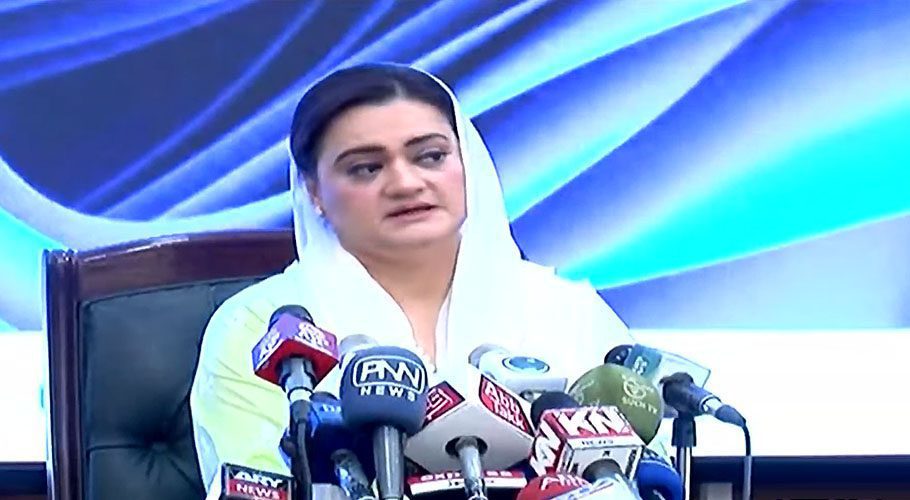 LAHORE: Federal Information Minister Marriyum Aurangzeb resumed her anti-PTI tirade on Sunday by lashing out at Imran Khan, accusing him of intimidating judiciary and making fun of the judicial system.
Also read: Judicial Complex chaos: Another case registered against Imran Khan
Her statement came a day after a hell broken loose in Lahore and Islamabad, when Police and paramilitary unleashed massive use of power to launch assault both at Zaman Park (Lahore) and Judicial Complex (Islamabad) against PTI workers.
Khan had left Lahore for Islamabad to appear in the court of district and session Judge Zafar Iqbal, but couldn't make it to the courtroom because of series of obstacles created by police and security pickets and intense tear gas shelling at the main entry point of Judicial Complex.
The Judge had allowed Khan to stay in his vehicle, put his signature to mark attendance and leave.
A number of vehicles and bikes had been set on fire in the meantime, the blame of which has been put on PTI and its leadership who have now been booked in an FIR this morning at CTD Police Station, Islamabad.
In Lahore too, Police launched an operation at Zaman Park and, as per media footage, ransacked and vandalized the property. Reports present on this occasion posted a number of videos showing Punjab Police personnel damaging and destroying private properties.
تصویر کا دوسرا رخ،
کوئی اس پر لب کشائی کرئے گا، پولیس نے جس طرح زمان پارک کے باہر گاڑیوں کی توڑ پھوڑ کی،1 نہیں 100 سے زائد گاڑیوں کو پولیس نے تباہ وبرباد کر دیا، اپنی ایک گاڑی کو نقصان پہنچا تو گریا کر رہے ہیں کہ مشتعل ہیں،شدت پسند ہیں،دہشت گرد ہیں، pic.twitter.com/a8aw4SgvQa

— Shakir Mehmood Awan (@ShakirAwan88) March 19, 2023
Addressing a presser in Lahore, Marriyum Aurangzeb alleged that Imran Khan had gone mad after losing power, and accused him of ruining the economy.
Also read: Punjab Police vow action after attack on Elite Force van in Lahore
Spewing further venom, she dubbed Khan as a 'lying political terrorist, a rat and a foreign agent who has launched an attack on the state'.
It is interesting to note that for the last couple of days, the ruling parties and the federal government have been consistent in using the term 'terrorist' and 'petrol bombs', as well as some racist remarks like 'people not from Lahore but from KP' during their rhetorics against PTI and its leadership.
The federal information minister said Pakistan Tehreek-i-Insaf is not a political party, rater 'a terrorist' has been imposed on our society. She said the court is summoning him and he is refusing to appear before it. 
Also read: Raid on Zaman Park: PTI asks courts to guard their verdicts
The minister stated that weapons and petrol bombs were found from Imran's residence during police search operation (in Lahore's Zaman Park).
"PTI is a terrorist organization," she repeated, requesting the Supreme Court to take suo motu notice against this "terrorist party".  
She rued that the Ladla (blue eyed) has been provided protection and he has been facilitated. 
Also read: Alleged brutal torture on PTI MNA Amjad Niazi draws strong condemnation
"Today, stones are being thrown at courts and the whole world is laughing at us as one man is making fun of courts," the minister added. 
She said that Imran abused courts only because he wanted that the court would not indict him. 
No other person has been facilitated in the way this man has been facilitated in the entire legal, constitutional and judicial history of the country.