Judicial Complex chaos: Another case registered against Imran Khan
ISLAMABAD: The Federal capital police on Sunday registered another case against PTI Chairman Imran Khan and other leading figures of his party for the chaos that took place when he attempted to appear before District and Session Court's judge in connection with Toshakhana case.
Also read: 52 personnel injured, 15 vehicles damaged in clashes: Islamabad Police
Khan, who traveled all the way from Lahore to Islamabad on Saturday, had to struggle for hours to enter into the Judicial Complex premises as heavy contingents of police and other paramilitary forces virtually stopped him from at almost every picket and post.
Also read: Punjab Police vows action after attack on Elite Force van in Lahore
Islamabad Police had allegedly resorted to tear gas shelling as the vehicle of Imran Khan approached main gate of the Complex, which triggered violent clashes between the workers and supporters of PTI and security personnel.
Also read: 52 personnel injured, 15 vehicles damaged in clashes: Islamabad Police
As per orders of the session court, the former premier signed his attendance sheet while sitting in his vehicle after he failed to reach the courtroom due to clashes.
Also read: Raid on Zaman Park: PTI asks courts to guard their verdicts
After a day-long series of clashes that disrupted life in Islamabad and caused many to struggle to breathe yesterday, the local police on Sunday registered a case under anti-terrorism clauses against the former premier and several party workers for their involvement in the chaos in the federal capital.
Leading party leaders like Asad Umar, Ali Amin Gandapur, Hammad Azhar, Farrukh Habib and others have also been nominated in the FIR, copy of which is available with MM News.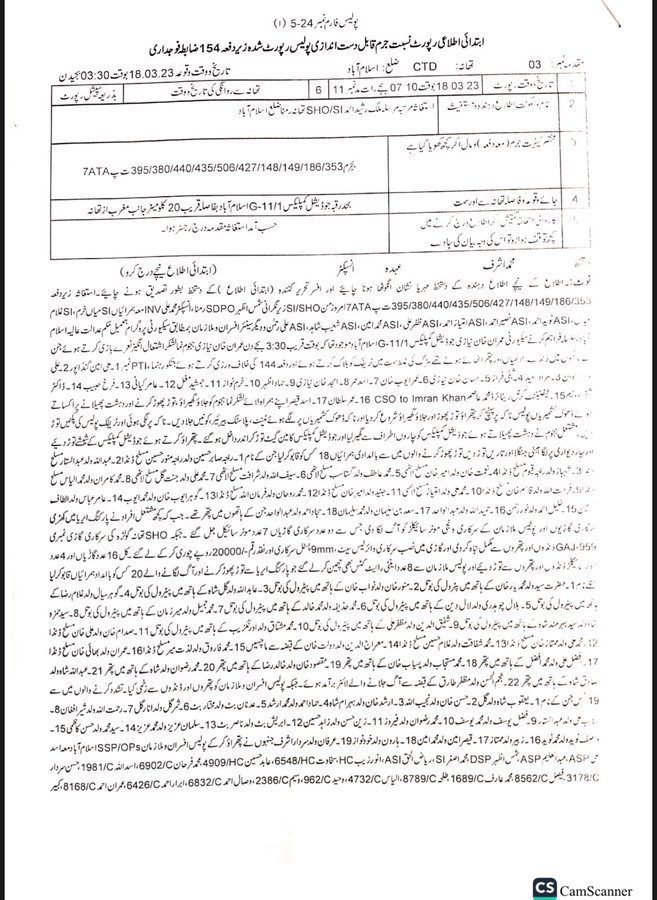 Meanwhile, IG Islamabad has ordered to prepare a report to assess the damages, which will be sent to the interior ministry. The report claimed that PTI's protesters damaged 15 police vehicles, adding that they set Lohi Bher Police Station's van and vehicles of the bomb disposal squad on fire.