Raid on Zaman Park: PTI asks courts to guard their verdicts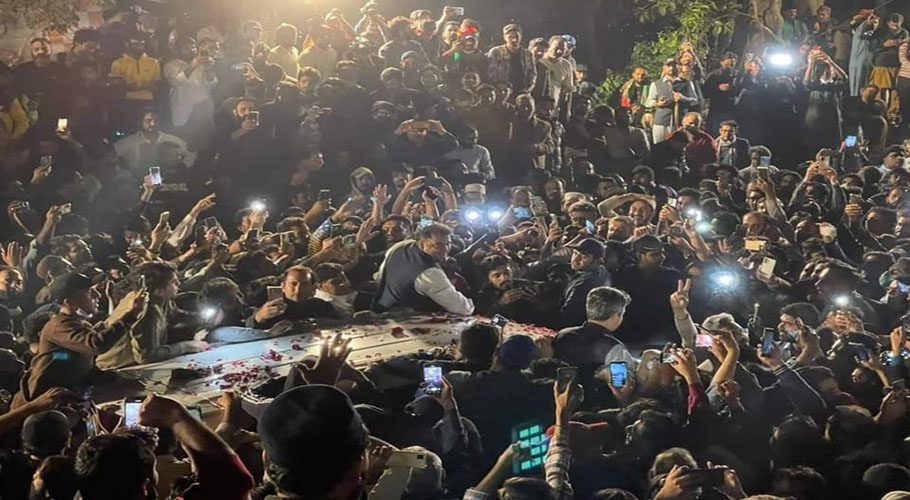 LAHORE: Pakistan Tehreek-e-Insaf (PTI) has drawn attention of the High Court towards blatant violation of their orders and judgements, and demanded to guard their verdict.
The demand was made by senior leader of PTI Fawad Chaudhry a day after Punjab Police raided Zaman Park residence of PTI Chairman Imran Khan in Lahore on Friday, breaking main gate and vandalizing property.
Videos posted by local journos from Lahore purported to show that Punjab Police raided Zaman Park residence shortly after Imran Khan left for Islamabad to appear in Toshakhana case, and resorted to brutal baton-charge, injured and arrested several PTI workers from inside the home. Reports suggest more than a dozen party workers were arrested from the spot.
Also read: Punjab Police raids Lahore's Zaman Park in Khan's absence, arrest PTI workers
Later on the same day, caretaker information minister Punjab  Amir Mir accompanied by IG Dr Usman Anwar appeared on media and made series of claims, including the one that "ammunition" — including petrol bombs — was recovered from Zaman Park.
Also read: Punjab administration claims Zaman Park No Go area cleared
PTI Chief Imran Khan, on the other hand, alleged that raid on his house was a contempt of court, saying "We had agreed that an SP with one of our people would implement a search warrant bec we knew otherwise they would plant stuff on their own, which they did. "
Taking to Twitter on Sunday, Fawad Chaudhry said his party had convened a meeting of legal team today to finalize strategy for filing case against each and every police officer involved in 'illegal operation'.
آج قانونی ٹیم کی میٹنگ بلائ ہے،جس طرح لاہور ہائیکورٹ کے فیصلے کو ہوا میں اڑا کر عمران خان کی رہائش گاہ میں پولیس داخل ہوئ چادر اور چار دیواری کے ہر اصول کو پامال کیا گیا،چوری کی گئ،جوس کے ڈبے تک اٹھا کر لے گئے،معصوم لوگوں کو تشدد کا نشانہ بنایا گیا جو کچھ اسلام آباد میں ہوا۔ 1/1

— Ch Fawad Hussain (@fawadchaudhry) March 19, 2023
He said all these developments were actually continued consequences of ongoing constitutional crisis in Pakistan, adding that violating court orders was unforgivable act, and demanded of the High Court to guard its verdict.