In historic first, Pakistani senator addresses BRICS seminar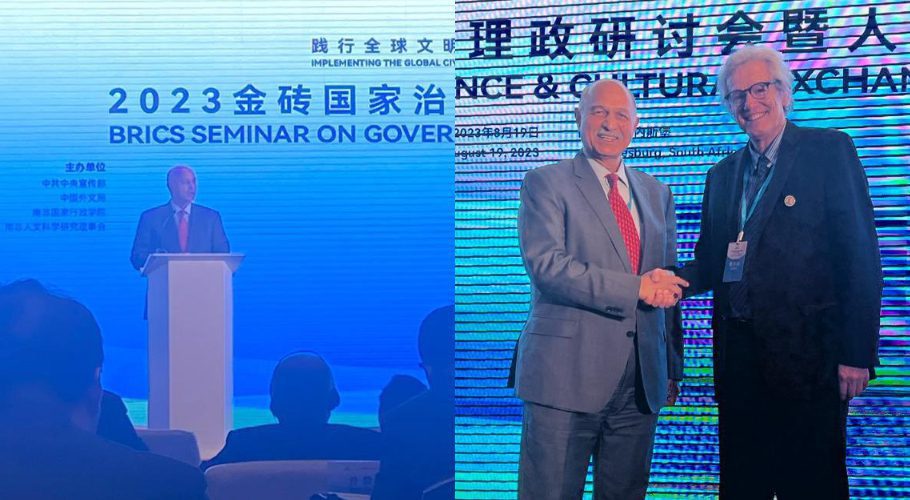 For the first time, Pakistan received an invitation to attend a BRICS (Brazil-Russia-India-China-South Africa) meeting in Johannesburg as countries seek to expand the bloc.
Senator Mushahid Hussain Syed addressed the seminar on governance ahead of the group's summit hosted by South Africa this year. This comes as regional heavyweight China seeks to integrate Pakistan into the alliance.
In a statement, Senator Mushahid wrote, "Addressed BRICS Seminar in Johannesburg, just before BRICS Summit tomorrow, the first Pakistani to be invited at BRICS event, which is a growing body that now has 20 countries in queue for membership"
He further wrote that Pakistan has welcomed BRICS expansion and urged the alliance to reject any New Cold War. He said Pakistan stressed on Afro-Asian solidarity and said Brazil and Russia can play a key role in new emerging global order, based on multilateralism & regional connectivity."
More than 40 countries including Saudi Arabia have expressed interest in joining BRICS and 22 have formally asked to be admitted. A number of prospective candidates are sending delegations to Johannesburg for meetings on Thursday – the last day of the summit – with the bloc's leaders.
According to media reports, a deal to expand the BRICS group of leading developing countries appeared stuck in eleventh-hour negotiations at a leaders' summit.
The debate over enlargement has topped the agenda at the three-day summit taking place in Johannesburg. While all BRICS members have publicly expressed support for growing the bloc, there were divisions among the leaders over how much and how quickly. 
South Africa's foreign minister Naledi Pandor said BRICS leaders had agreed on mechanisms for considering new members. She said they have adopted a document that sets out guidelines and principles, processes for considering countries that wish to become members of BRICS.
China has long called for an expansion of BRICS as a means of fostering a multipolar world order to challenge Western dominance.
"The world … has entered a new period of turbulence and transformation," China's President Xi Jinping said. "We, the BRICS countries, should always bear in mind our founding purpose of strengthening ourselves through unity."
Brazil's President Luiz Inacio Lula da Silva rejected the idea the bloc should seek to rival the US and the Group of Seven wealthy economies.
Indian PM as Modi proposed included requiring members not the target of international sanctions, ruling out potential candidates Iran and Venezuela. Modi is also pushing for a minimum per capita GDP requirement.