Inquiry committee formed over embezzlement of funds in DG Colleges Sindh
KARACHI: An inquiry committee has been set up in the office of the Director-General of Colleges Sindh, on the issue of alleged misappropriation of funds with the collusion of vendors in the clearance of bills.
According to the inquiry notification received by MM News, a three-member inquiry committee had been set up under the letter signed by the acting Director-General, Prof Rashid Ahmed Mehar. The Inquiry Committee will gather complete facts about the November 5 incident that happened at the office of the director-general of colleges.
Moreover, the 3-member Inquiry Committee comprises Grade 20 Officer Regional Director Colleges Karachi, Prof. Dr. Hafiz Abdul Bari Indhar, Sir Syed Government Girls College Nazimabad's Principal Prof. Khalida Parveen, and Government Boys Degree College Gulistan-e- Johar's Principal Prof. Naeem Khalid.
Read also: Serious violations arise in recruitment of Sindh Education Board's Chairman posts
Furthermore, the purpose of setting up an inquiry committee is to find out which vendors, in which colleges have signed the bills without working and have received money from AG Sindh, and who are involved in this nefarious scam of corruption. The committee was given clear instructions to initiate an investigation to find the culprits.
Although, surprisingly, no instructions have been issued by the committee, as to when the inquiry committee's findings will be completed and when the report will be submitted before authorities?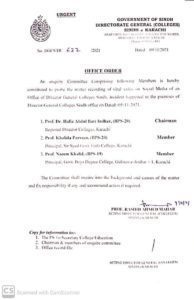 Meanwhile, in this regard, the current DG Colleges Sindh said, "We have formed an inquiry committee, the members of which have been instructed to conduct an inquiry and state what the real facts are. We did not impose a time limit because the committee members themselves would submit the report as soon as possible."
Adding to that, the Regional Director of Colleges Karachi, Prof. Dr. Abdul Bari Indhar said, "An inquiry will be held and statements of all the parties would be taken which will require a lot of time, after which the committee will reach a conclusion."