Sindh local govt dept turns down orders of SHC
KARACHI: Sindh Local Bodies Department has dismissed the orders of Sindh High Court Sukkur Bench.
The Sukkur High Court had directed Chief Municipal Officer Shafiq Ahmed Bhutto to work in the Municipal Committee Pir Jo Goth.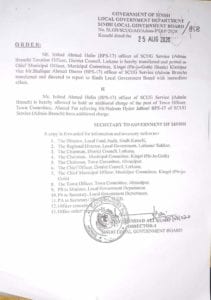 On 25th August, the Sindh Local Government Department issued an order appointing Irshad Helio as the Chief Municipal Officer Municipal Committee. It may be recalled that earlier an order was issued to remove Shafiq Ahmed Bhutto and appoint Abdul Waheed Domki on which Shafiq Bhutto approached the court and issued orders to Shafiq Bhutto to work in his post.
The Sindh Local Government Department, however, has been involved in such an appointment of officers. The sources said that the price for issuing the order for the said post is allegedly Rs 10 to 15 lakh and the order for appointment in the desired institutions is issued.
The Chief Municipal Officer is appointed at a cost of Rs. 8 to 10 lakhs. The Supreme Court should take notice of this contempt of court by the Local Government Department and end the unrest of employees and officers.