PSX witnesses bullish trend, gains 520 points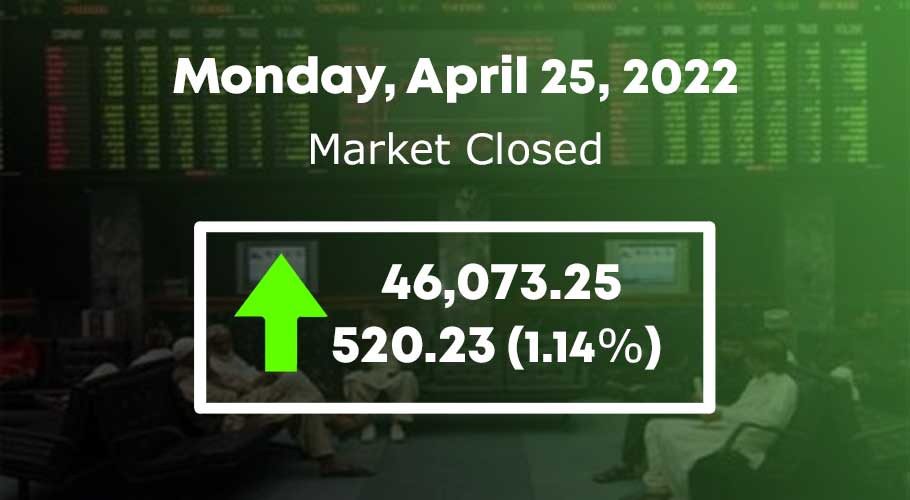 KARACHI: The Pakistan Stock Exchange (PSX) witnessed bullish trend on Monday after a volatile week and gained 520 points.
The benchmark KSE-100 surged in early trading and reached its highest point of 46,203.59 points. The bourse gained 520.23 points, with positive change of 1.14 percent, and closed at 46,073.25 points. The total volume of shares were 118.702 million valued at Rs6.25 billion.
The KMI 30 index increased by 1,002.28 points (1.34%) and closed at 75,562.28 points, while the All Share Index gained 278.81 points (0.90%) and closed at 31,292.73 points. The total volume of shares traded were 368.777 million at the stock market.
The highest number of shares traded belonged to Hum Network Ltd (HUMNL 3.65%) which traded 46.871 million shares. This was followed by Telecard Ltd (TELE -7.06%), WorldCall Ltd (WTL -5.52%) and G3 Technologies Ltd (GTECH -2.23%). The number of scrips traded were 35.492 million, 31.986 million, and 31.986 million, respectively.
As many as 325 companies transacted shares in the stock market, 163 of them recorded gain and 148 sustained losses, whereas the share price of 14 companies remained unchanged.
Sectors propping up the index were Fertilizer with 157 points, Commercial Banks with 72 points, Technology & Communication with 58 points, Chemical with 53 points, and Power Generation & Distribution with 44 points.
Sector wise, the index was let down by Refinery with 14 points, Cement with 3 points, Close-End Mutual Fund with 3 points, Sugar & Allied Industries with 2 points, and Automobile Parts & Accessories with 2 points.
The positive sentiments stemmed from the constructive discussions with the International Monetary Fund (IMF) in Washington. A delegation will visit Pakistan in May to hold discussions on the fuel and power subsidies for the seventh review to revive the bailout programme.