Ali Zaidi serves legal notice to Miftah Ismail over corruption allegations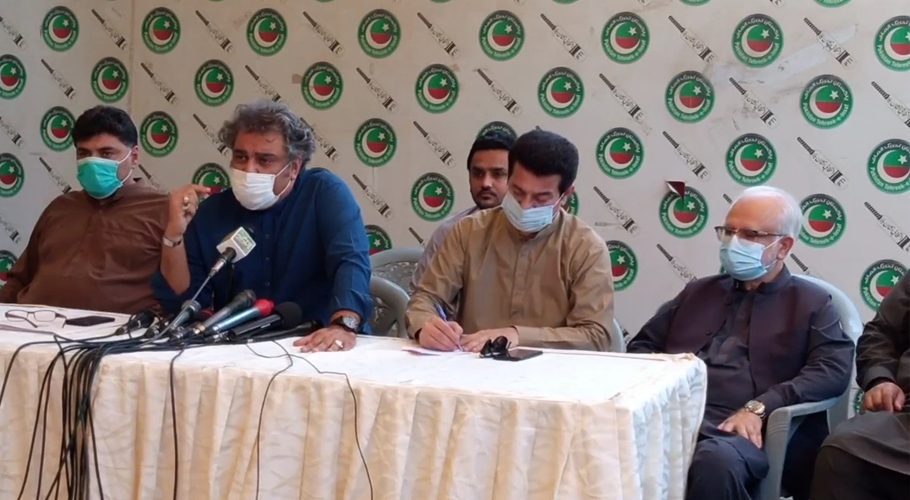 KARACHI: Federal Minister for Maritime Affairs, Ali Haider Zaidi on Wednesday said that a legal notice has been sent to Pakistan Muslim League-Nawaz (PML-N) leader Miftah Ismail for making false and politically motivated imputations against him.
While addressing a press conference along with PTI leaders Bilal Ghaffar, Mahmood Maulvi and Jamal Siddiqui at Insaf House Karachi, Ali Zaidi said everyone has the right to contest elections. However making false statements against political opponents on TV shows is condemnable, he added.
Ali Zaidi said, "I have not made any statement as a minister regarding the by-election of NA-249, under the election rules, but I have been watching the drama for two days and it has become necessary to respond to all the opponents," he added.
The federal minister said Miftah Ismail had leveled the baseless allegation. "I am accused of not paying taxes. He also talked about corruption in my ministry. Yes, tell me what corruption I have done," Zaidi asked the PML-N leader. He said, "Miftah Ismail wherever you want; finds out how much tax I have paid."
Ismail involved in money laundering and running the illegal business at Ismail Group of Industries, the PTI leader alleged, adding that they had sent tomatoes to Afghanistan illegally and earned millions of rupees.
The minister said that there was aerial firing in the constituency in front of the PSP office during the by-election campaign and he condemned the incident.