What is reality behind viral video of bride being weighed in gold on social media?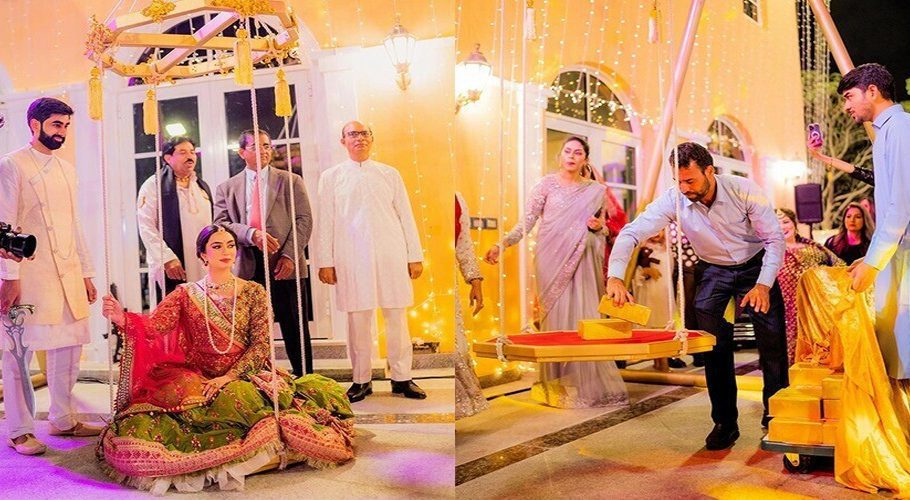 In the past few days, a video of a bride being weighed in her gold has gone viral on social media.
In the video, the bride, dressed in a red and green traditional lehenga choli, was placed on one side of the pair of scales, and on another scale, bars of gold were placed.  
 

 

View this post on Instagram

 
This video of the bride sitting on one side of the scales and the gold bricks on the other caused quite a storm on the internet, with most users criticizing it as a show. However, the critics stay put. 
This wedding was of a Pakistani businessman who resides in Dubai and hired the services of Abdul Samad Zia for official photography.
Sharing adorable photos of the couple on the official Instapage, everyone thought it was real gold but it was actually Ayesha and Mohammed's 'Grand Bollywood' night.
These fake golden bricks were actually a part of the theme of the Bollywood night, which is a parody of the popular Bollywood movie 'Jodha Akbar'.
 

 

View this post on Instagram

 
After the truth was brought to light by the photographer, the bricks are already being criticized by consumers who felt they were a display of extravagance and wealth.
Interestingly, apart from the Pakistani media, this video also went viral and the Indian media also gave it significant coverage.