Security forces foil major terror bid in Peshawar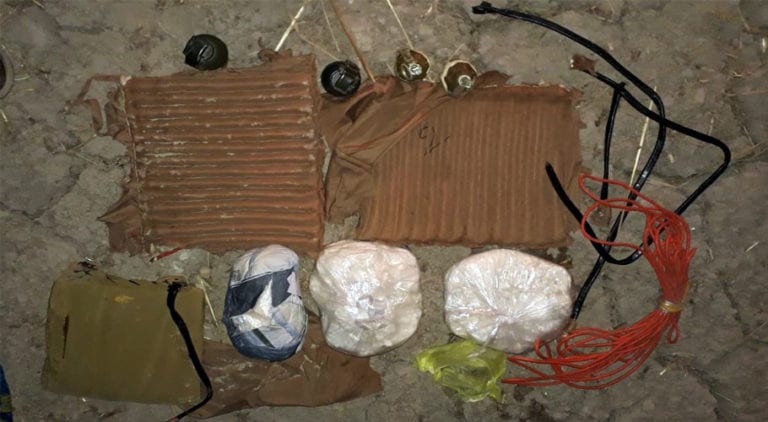 PESHAWAR:  Security forces on Monday foiled a major terrorism bid in Shahpur area of Peshawar.
According to sources, on a tip-off, law enforcement agencies personnel conducted a targeted operation in Shahpur and recovered a cache of arms and explosives from an under-construction house.
Sources further said unidentified terrorists managed to escape before the operation of security agencies.
During the operation, four hand grenades, four kg of explosives material and ball bearings were also recovered from the house.
The law enforcement agencies personnel claimed that the suspects were planning "heinous crime" to sabotage the peace and their nefarious designs had been foiled.
The Counter-Terrorism Department (CTD) on June 23 killed four terrorists during a targeted operation in Peshawar.
According to CTD spokesman, on an intelligence report about the terrorists, a CTD team conducted a targeted raid in the city's Ghaziabad area.
"Seeing the CTD team the terrorists had opened fire on the raiding team, following which four terrorists were killed in retaliation," the CTD spokesman had said.
The spokesman further said four Kalashnikovs, six grenades and hundreds of rounds of ammunition were recovered from the terrorists' hideout.
Khyber Pakhtunkhwa (KP) Inspector General (IG) Sanaullah Abbasi had appreciated CDT action, adding that security operations against terrorists will continue in the province.
He further said public safety will be ensured and police have made significant gains against militants in this regard, he added.