Sajal Aly shoots down divorce rumours with Ahad Raza, uploads selfie together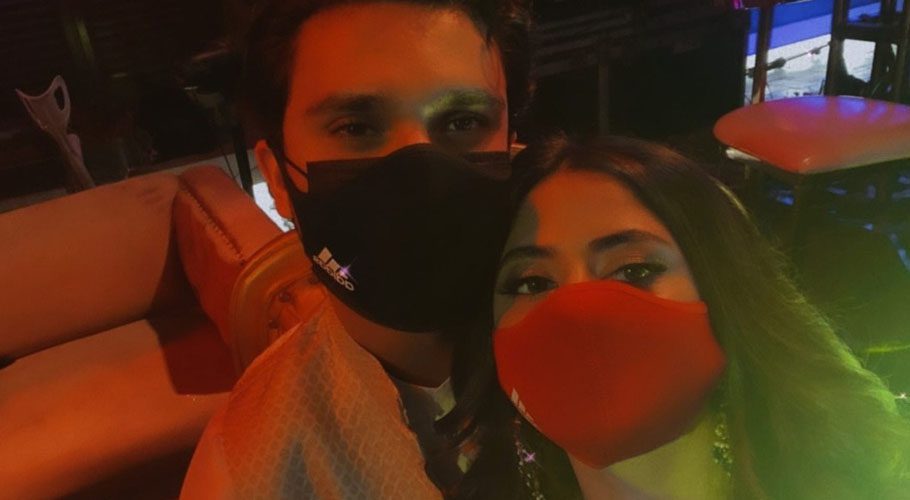 DUBAI: Actress Sajal Aly has refuted all the rumors of a troubled marriage with Ahad Raza Mir by uploading a cute picture together.
There are  rumours regarding Sajal Aly and Ahad Raza Mir's troubled marriage that have been circulating on social media and the speculations that the couple would part way after Sajal shared a story about home wreckers and evil people who always try to break anyone's relationship on her Instagram.
She later deleted the story which caused people to think that the couple is getting a divorce.  However, the Alif actress turned down all the rumors by uploading a picture together with her husband.
While taking to Instagram story, Aly shared a picture with her husband where both can be seen wearing a mask.

Moreover, the teaser of the most awaited upcoming web series starring Ahad Raza Mir and Sajal Aly in 'Dhoop Ki Deewar' had recently released. The news was shared by Dhoop Ki Deewar's director Haseeb Hasan who wrote, "Always make each other smile! Happy Anniversary Ahad and Sajal. He added, "Cherishing my favourite moment of Vishal – Sara from Dhoop Ki Deewar on this day."
Read more: Bilal Abbas Khan and Sajal Aly to share screen once again
Produced by Shailja Kejriwal, the story of the web series is surrounded by two teenagers whose lives change forever overnight. Besides Sajal and Ahad, the series includes Adnan Jaffer, Zara Tareen, Paras Masroor, Hammad Siddiqui, Ainy Zaidi, Samiya Mumtaz, Salma Hasan, and Lubna Aslam.
Written by Umera Ahmad, Dhoop Ki Deewar is directed and co-produced by Hassan under the banner of Hamdan Films along with Shailja.