PSX continues to surge for second consecutive day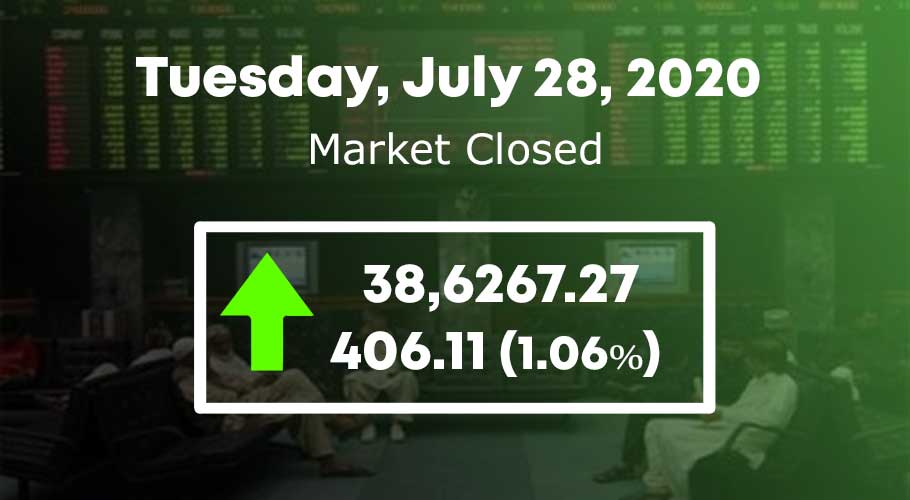 KARACHI: The Pakistan Stock Exchange (PSX) on Tuesday continued its upwards trajectory for the second consecutive day and continue to surge throughout the day.
The KSE 100 index surged by 406.11 points and ended the day at 38,628 points. The indices surged by 324.30 points as trading resumed and remain on an upward trajectory throughout the day. The total volume of shares traded at the bourse was 241.928 million valued at Rs12.351 billion.
The lower bench KSE 30 index surged by 187.43 points and closed at 16,821.71 points. The total volume of scripts was 145.859 million. The KMI 30 index gained 721.85 points and closed at 61,633.37 points, while the All-Share Index gained 225.05 points and closed at 27,253.42 points.
The market leader was Pak Elektron Ltd (PAEL 6.50%) for the second consecutive day and traded 26.292 million shares. This was followed by Maple Leaf Cement factory (MLCF 3.45%), Bank of Punjab (BOP 3.02%), and Fauji Foods Ltd (FFL 4.16%). The firms traded 26.16 million, 23.402 million, and 23 million shares, respectively.
The sector contributing the most to KSE 100 index were commercial banks (178.01 points) which mutual funds sector saw the largest change in market capitalization (5.89%). The total volume of shares was 393.58 million.
On the economic front, the State Bank of Pakistan (SBP) announced it received financial assistance worth $505.5 million from the World Bank.