PML-N leader Nehal Hashmi, sons arrested for attacking policemen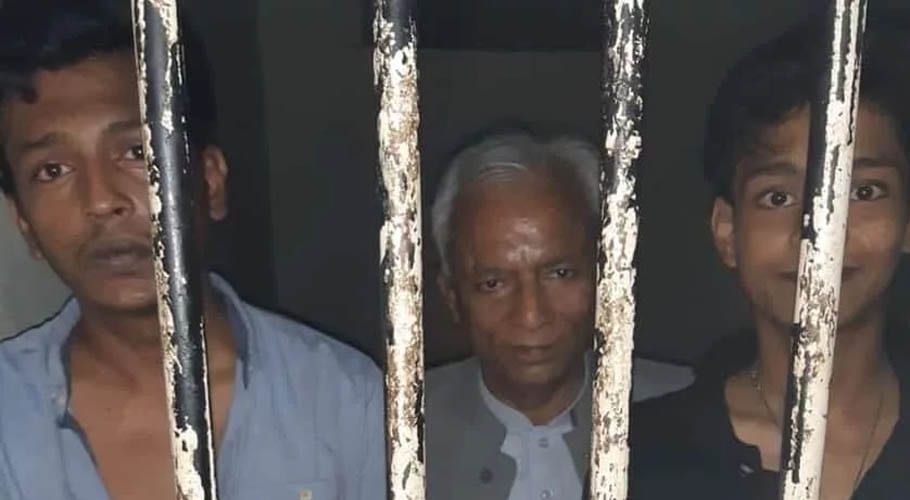 KARACHI: Pakistan Muslim League-Nawaz (PML-N) leader Nehal Hashmi and two of his sons were arrested late on Friday evening for attacking policemen.
The incident took place in Malir where the PML-N leader and his sons, Naseer and Ibrahim, had an altercation with two on-duty policemen. Nehal Hashmi's son Naseer said the police took them to Saudabad police station and did not allow their family from meeting him.
His son alleged that the policeman broke his mobile phone when they attempted to stop him from coming near them. He added that the police had detained him and his father at the police station.
Police denied the claims and said that Nehal Hashmi and his family had a dispute with another citizen. They said that police was sent to diffuse the matter but Nehal Hashmi and his sons attacked the policemen and tore their uniforms.
SSP Korangi said that Station House Officer (SHO) Saudabad had reached the sight of the incident. He said that Hashmi's son Naseer started abusing and threatening the policemen when they went there.
SSP Korangi said Naseer was taken to the police station after which Nehal Hashmi and his wife also reach there and started abusing the policemen. This created a scuffle and both Nehal Hashmi and his two sons attacked the police. They were arrested and have been kept in lockup, while a case had registered against them.
The PML-N leader's daughter Ayesha Hashmi released a video statement issued late in the night stating they were dragged into someone else's matter and the police misbehaved with her and her mother. She said the policemen in plainclothes tortured her brother Naseer Hashmi and humiliated her family.
PML-N member Asad Usmani accused police officials of extorting money and the fight started when Hashmi's son stopped them. Usmani said he had arrived outside the police station but the door had been closed and no one was being allowed to enter.