PM Khan meets Mohammad Bin Salman in Saudi Arabia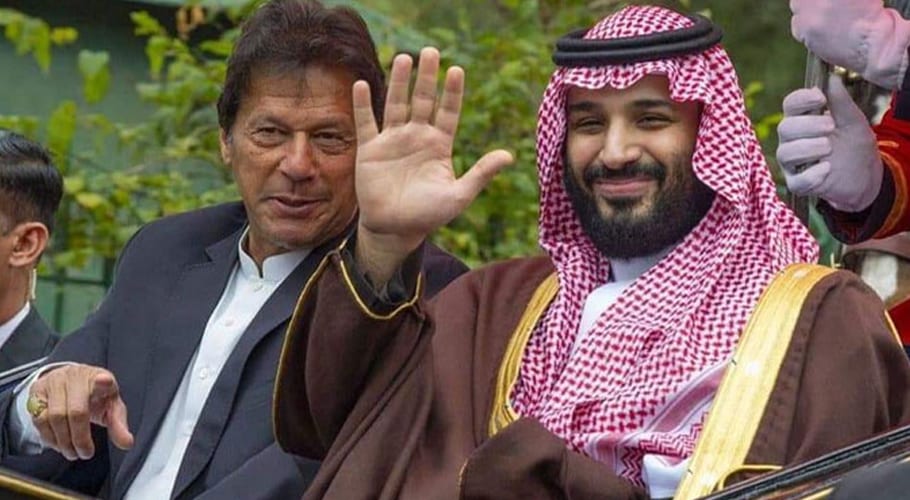 JEDDAH: Prime Minister of Pakistan Imran Khan met with Saudi Crown Prince Mohammad bin Salman on Thursday and guided him about the prevailing situation in Indian occupied Kashmir.
The prime minister Imran Khan arrived in Jeddah on a two-day official visit to Saudi Arabia. He was received by the Governor of Makkah upon arrival at the royal terminal of Jeddah Airport.
He was accompanied by Foreign Minister Shah Mehmood Qureshi, Finance Adviser Hafeez Sheikh, Special Assistant for Overseas Pakistanis Zulfiqar Bukhari and other officials.
During his meeting with Crown Prince Mohammad Bin Salman, Imran Khan condemned the attacks by the Yemeni rebel group, Houthi on Saudi oil facilities last week.
The Premier informed his Saudi counterpart of the prevailing situation in Indian occupied Kashmir, the ongoing lockdown and communication blackout and a humanitarian crisis originating from these restrictions have paralyzed the life in the valley.
The Pakistani premier also added that gross violations in the Kashmir valley have developed a humanitarian crisis in the Kashmir region. The two heads have also discussed bilateral relations and affairs of mutual interest.
During the visit, according to the Foreign Office, Pakistan and Saudi Arabia are expected to discuss ways and plans to strengthen the economic alliances between the two brotherly nations.
Earlier this year, Mohammad bin Salman made his first visit to Pakistan since becoming the crown prince. More recently, the country's foreign minister visited Pakistan along with his Emirati counterpart to discuss the Kashmir situation