PM discusses regional peace with Saudi King Salman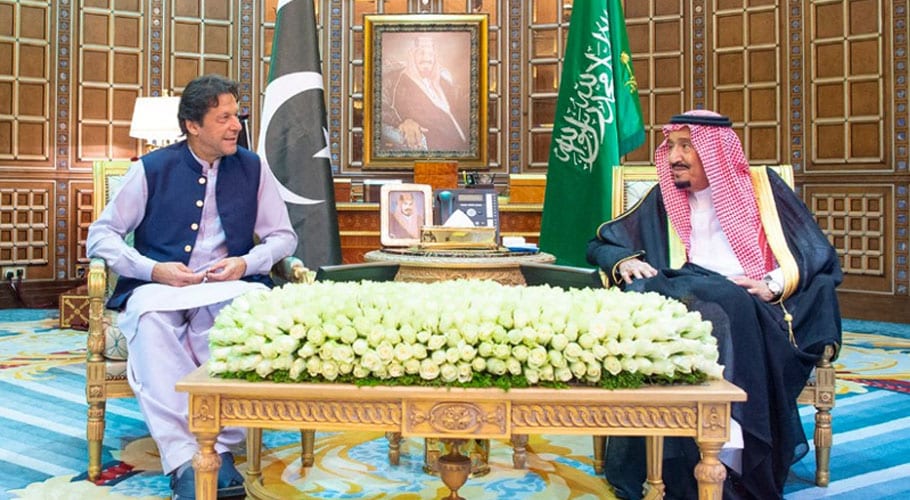 JEDDAH: Prime Minister Imran Khan discussed bilateral relations, regional peace, and stability with Saudi King Salman bin Abdul Aziz. 
Prime Minister Imran Khan held a meeting with Saudi King in Saudi Arabia during his one-day visit to Riyadh.
Prime Minister also notified the King about the latest situation in Indian occupied Kashmir (IoK).
Also read:

US President Trump doesn't believe in war: PM
Governor Riyadh Faisal bin Bandar bin Abdulaziz Al Saud and Minister of State and National Security Advisor Dr. Musaad bin Mohammed Al Aiban welcomed the Prime Minister at Royal terminal of the King Khalid Airport Riyadh.
Foreign Minister Shah Mehmood Qureshi and Prime Minister's Special Assistant on Overseas Pakistanis Syed Zulfiqar Bukhari are accompanying the premier.
During the visit, the prime minister met King Salman bin Abdulaziz Al Saud and Crown Prince Muhammad bin Salman.
Imran Khan exchanged views with Saudi leadership regarding the proposals made by Iranian officials about an expected dialogue between the two hostile countries.