Pakistani envoy presents 'Certificate of Appreciation' to student Mahnoor Cheema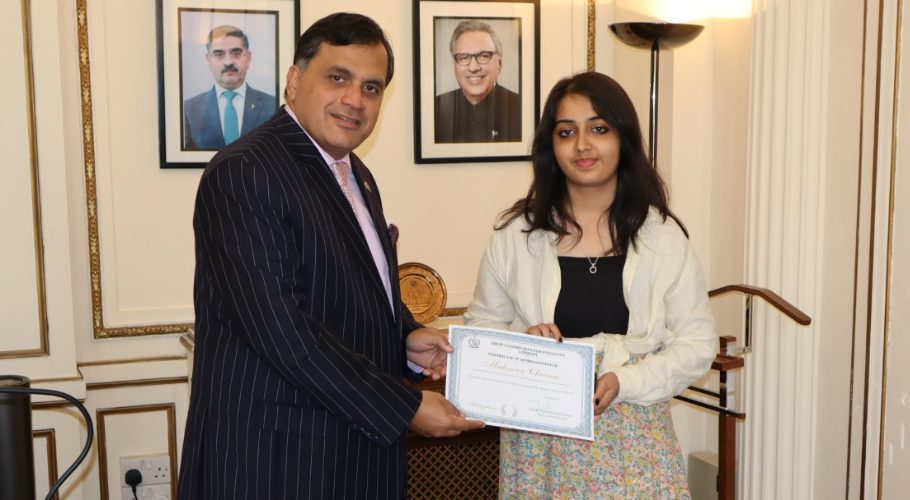 LONDON: Pakistan's High Commissioner Dr Mohammad Faisal awarded a 'Certificate of Appreciation' to the outstanding British Pakistani student Mahnoor Cheema.
The Pakistani mission in UK honoured the student in recognition of her extraordinary accomplishments in the General Certificate of Secondary Education (GCSE) examinations.
Mahnoor's exceptional achievement of passing 34 subjects with high grades has set an international benchmark for academic excellence, the embassy said in a statement,
The High Commissioner expressed his profound admiration for Mahnoor's commitment to academic excellence, hailing her as an inspiration for young girls across the globe.
He lauded Mahnoor for not only bringing honor to her family but also for shining a spotlight on Pakistan's exceptional educational talent on the global stage.
Dr Faisal extended his best wishes to Mahnoor for her pursuit of excellence in academics. He also expressed appreciation for the invaluable support and guidance provided by Mahnoor's parents.
Dr Faisal acknowledged their pivotal role in fostering an environment conducive to academic success and underscored the significance of parental encouragement in nurturing the next generation of high achievers.
He said Mahnoor Cheema's remarkable accomplishment in the GCSE examinations reinforces the educational ties between the United Kingdom and Pakistan.
READ MORE: Sharif brothers praise British-Pakistani student Mahnoor Cheema
High Commissioner @DrMFaisal honours Mahnoor Cheema, a British Pakistani student, by awarding her a Certificate of Appreciation for her 34-subject triumph in GCSE exams. 📚 An inspiration for young girls globally, Mahnoor shines a spotlight on🇵🇰's educational talent. Kudos! pic.twitter.com/pSVd5TOiBG

— Pakistan High Commission London (@PakistaninUK) September 5, 2023
Mahnoor Cheema had passed an astonishing total of 34 subjects at the GCSE level, setting a new record in the history of the United Kingdom and internationally.
She passed 17 subjects with A* grades as a private candidate in year 10 and added 17 more subjects in Year 11, taking the total count to 34. Cheema has expressed her intention to study medicine at Oxford University.