KDA employees call off protests after assurances from director-general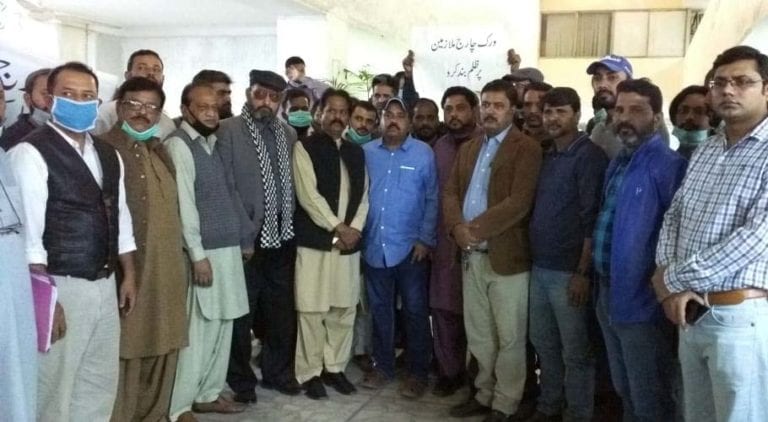 KARACHI: Karachi Development Authority (KDA) employees have called off their protest against non-payment of salaries after receiving assurances from the director-general.
Hundreds of work-charge employees have been protesting at the Civic Centre for over a month against the non-payment of salaries for over three years.  Interestingly, KDA Director-General was unaware of the problems being faced by KDA work charge employees
The KDA Work Charge Joint Action Committee leader held a meeting with KDA DG Nisar Abba s Soomro. He assured to resolve their problems being faced by KDA work charge and contract workers after which they agreed to call off their protests.
Earlier a protest was held at the Sabsazar near Civic Centre. On the occasion, work charge employees' leader Faheem Khan told MM News that the scrutiny committee, which was formed to release their salaries, was purposely delaying the matter.
He said that hand-picked workers had already been regularised and awarded contracts and salaries. "We will continue our struggle for the regularisation of all employees till the last drop of blood," he said.
He said that fifty employees out of 200 have been regularised but they will continue to protest against illegal appointments. He said they will file another case in the Sindh High Court (SHC) against the appointments and will not remain silent.
The work charge employees had warned to protest against Secretary Local Government and surround his office and residence if their demands were not met. Faheem Khan said the LG Department should show seriousness over the matter and KDA should regularise all contract and work charge employees.
The protesters then walked from Sabzazar to KDA head office and raised slogans against the administration. Eventually, KDA DG assured them to resolve their problems after which workers decided to call of their protest.