Ghotki: Police arrest 200 rioters for desecrating temples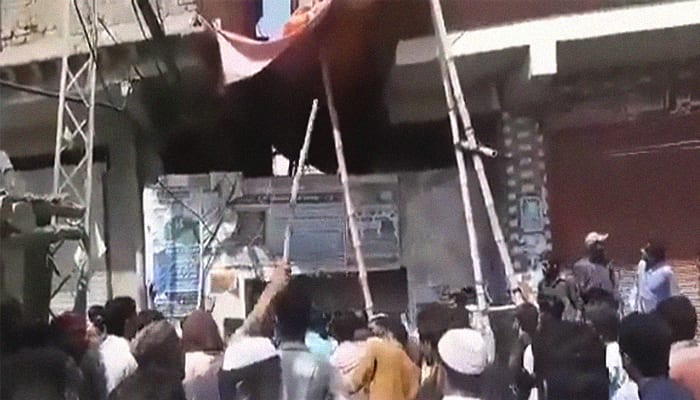 GHOTKI: Police have booked over 200 alleged offenders for damaging Hindu temples in Ghotki. The Sindh Police have registered the case against suspects and presented them before the honorable court today.
On Sunday morning Police had registered a case against the school principal for allegedly committing blasphemy. One of the student's father filed a complaint against Notan Lal, the school principal.
People started coming out of their houses and shaped up as a mob. The demonstrators vandalized the school and at least five shops in Jilani Market owned by members of the Hindu community, while also befouled the Sacho Satram Das temple.
Police registered a case against the rioters, 45 people have been booked under Section 295 of the Pakistan Penal Code (injuring or defiling place of worship, with intent to insult the religion of any class).
Of these 45, officials said, 22 people have been identified while 23 remain unidentified.
Police have been registered a case against 155 people of blocking roads and disrupting vehicular traffic.
Speaking to the news channel Sukkur Additional Inspector General of Police Dr. Jamil Ahmed said all three cases have been registered on behalf of the state.
"This is a warning to all such miscreants that no one will be allowed to challenge the writ of the state," he said.