Celebrating Eid-ul-Azha in a responsible way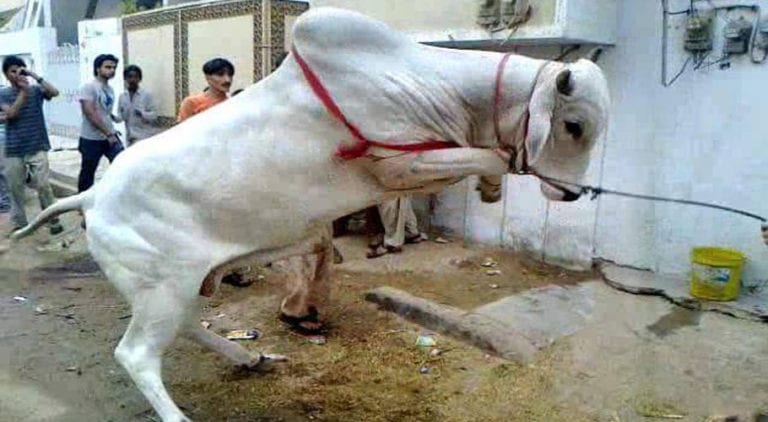 Eid al-Azha (Feast of the Sacrifice) also called Eid Qurban or Bakra-Eid, is the second of two Islamic holidays celebrated worldwide each year and considered the holier of the two.
The occasion honours the willingness of Prophet Ibrahim (May Allah be pleased with him) to sacrifice his son Ismail (May Allah be pleased with him) as an act of obedience to Allah's command. In commemoration, Muslims sacrifice an animal usually a sheep, cow, goat, or even camel.
Under Islamic injunctions, one-third of its meat is consumed by the family offering the sacrifice, while the rest is distributed to the poor and needy. Sweets and gifts are given and extended family is typically visited and welcomed. Thus, we fulfill not just a religious obligation but even a social responsibility.
Business on Eid-ul-Azha
Eid-ul-Azha is a joyous occasion but also provides a huge business opportunity. Despite the ongoing economic crisis and health pandemic, an estimated 400,000 animals will be sacrificed in Karachi. The total number of sacrificial animals is estimated to be more than two million.
Villagers from rural areas bring their livestock and cattle to towns and cities to sell them on Eid-ul-Azha. The earnings from the sale of animals provide sustenance for them and their families throughout the year. These people rear animals throughout the year to sell them on Eid for a living.
Along the main focus is on sacrificial animals, many people buy new clothes, shoes and bangles. The occasion also gives a boost to related and complementary industries just as tanneries, knives, animal fodder, decorative ornaments and even food as people cook their favourite meat dishes.
Animals on the streets
Millions of people flock to the cattle markets located on the outskirts of the city to buy sacrificial animals. Every person makes complete effort to make an animal according to his needs and affordability.
It is a joyous moment when the sacrificial animal comes home. The streets are filled with overjoyed children excited to see, feed and pet their new arrivals, taking them on long walks in the narrow streets, and take complete care of them. It can be safe to say that children enjoy the most in the days leading to Eid.
While Eid-ul-Azha is a joyous occasion, it also creates a fair share of problems in our society. The most important is the disposal of animal waste and carcasses. Piles of offal can be seen on the streets and in the middle of the roads. This does not only creates a stench that lingers for days but also leads to health hazards and pollution.
This is exacerbated by the lack of civic sense and responsibility. People spend large amounts of money on sacrifices but are not willing spend a dime on cleaning animal wastage. Cleanliness is considered next to Godliness, while our lack of faith is also exposed on this day.
Finding butchers and joint sacrifices
Animal sacrifice is a difficult task and requires an expert butcher. People prefer to sacrifice their animals at their homes and go out in search of a butcher on Eid.
The butchers are in high demand on Eid-ul-Azha and many of them are booked days and even weeks in advance. This also provides an opportunity to many seasonal and inexperienced butcher to make a quick buck on this day. The rate of butchers also rises steadily on this day.
Due to the worsening economic crisis, rising cost of animals and the hassle associated with sacrifice, many people are preferring to joint sacrifice any animals. The concept of joint sacrifice has been gain popularity in recent years as people can contribute a fixed amount of money for their sacrifice.
Many religious scholars and government officials have urged people to consider holding joint or collective animal sacrifices due to the coronavirus pandemic. Islam ordains that actions are judged by intentions. Our religion has provided ease by allowing us to fulfill our religious obligations without any hassle and religion.
Our responsibility
The government of Sindh has banned animal sacrificial in public on the streets and also allotted special locations and abbattoirs. This practice is followed in many Muslim countries including Saudi Arabia, UAE and Turkey, and should be welcomed.
The prime minister, president and political leaders have urged people to celebrate Eid this year with simplicity and observe all safety precautions. It is now our responsibility to celebrate Eid in line in mind all Islamic injunctions and traditions and also the guidelines provided by the government.
We must remember the underprivileged segments of society, distribute meat generously among them, and give alms and charity. We must ensure cleanliness in our homes, streets, and neigbourhoods to prevent pollution and the spread of disease. We are celebrating Eid under extraordinary circumstances and must observe precautions on this occasion.