Aurat March vs Patriarchy: The case of Khalil-ur-Rehman Qamar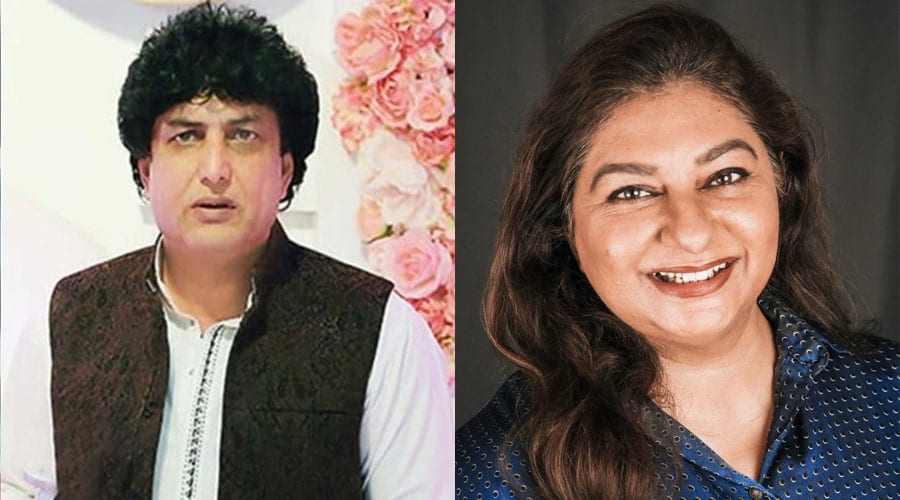 Director-producer Khalil-ur-Rehman Qamar, who found immense fame and stardom with his recently-concluded 'Meray Pass Tum Ho' drama serial, has also gained notoriety for his blatant misogynist and sexist remarks.
What actually happened?
In another bizarre and troubling incident, Khalil-ur-Rehman Qamar was seen on mainstream television cursing and swearing at a woman with expletives and managed to get away with it. Women rights activist and ardent feminist Marvi Sirmed was also present as a panelist on the TV show.
The topic of discussion was the Aurat March which is being held this weekend March 8 on the occasion of International Women's Day. The event has gained immense controversy over the depictions of certain posters and slogans deemed offensive to the patriarchal and conservative mindset.
In response to a question, Qamar took a direct jibe at Marvi Sirmed for a controversial slogan which seeks to give women more control over their lives and bodies.
"When the court has denied the usage of slogans like 'Mera jism, meri marzi' (My body, my choice), then it hurts me deeply when figures like Marvi Sirmed use these slogans," he said.
Sirmed could stay quiet when being called out and repeated the same slogan repeatedly. Qamar was baffled over being interrupted and erupted in a demeaning manner. He went a vile, expletive-laden and misogynist diatribe despite being stopped by the TV host for his use of vulgar language.
The incident has ignited a fierce debate on social debate with some supported Qamar despite the disrespect and shocking comments. Man expressed outrage and are calling on media to boycott Qamar, while the TV channel has issued an apology.

Aurat March: Women vs Patriarchy
The Aurat March was first held a couple of years back on the occasion of International Women's Day, a global day commemorated to fight for the rights of women and ending all forms of discrimination.
The march became infamous for some of the catchphrases and slogans which were displayed there. These slogans attempted to highlight the causal misogyny, sexism, hypocrisy and dual standards of expectations prevalent in our society.
Aurat March has been criticised for trivializing some of the most pressing issues faced by women in society. It has also been accused of spreading vulgarity, obscenity and challenging the natural order of society.
Women have been subjected to domestic violence, abuse, honour killings, discrimination, usurpation of inheritance rights, and denial of rights. They have increasingly stepped out of their homes and sought to regain control over their lives, but are still being pushed down.
A petition was filed in the Lahore High Court to stop them from marching but fortunately, neither the court nor the state issued any directives and dismissed it allowing the move to ahead. Khalil-ur-Rehman Qamar and Marvi Sirmed are not just two individuals but rather two different schools of thought that have clashed in our society.

Culture, Media and Society
The role of the media has often been criticised in such circumstances. The female host of the TV show was seen urging Qamar to control himself and refrain from using abusive language, but the channel made no efforts to bleep or censor his remarks.
It is highly debated whether media is a reflection of society and just holds a mirror, or does it shows people what it wants them to see. The media industry has been churning out dramas, serials, and films which are demeaning towards women, portraying them in negative roles, and these are being helmed by men such as Qamar.
Does media have a moral responsibility in such incidents? Does Qamar have the right to freedom of speech and expression? Does it allow him to cross moral norms of decency?  Should the media have censored him? Should he be invited against on mainstream TV? There are some questions that should be debated but remain unanswered.

Cancel culture and Boycott
Another question is whether we should have cancel culture in our showbiz industry? Movements like #MeToo and TimesUp have emerged in Hollywood and predatory men like Harvey Weinstein, Bill Cosby, Kevin Spacey, and others have fallen. It is time for Pakistan to shun such men from been given airtime.
The Pakistani media continues to invite men in politics and showbiz who have a checkered background with accusations by women. Qamar still rubs shoulder with media bigwigs and has just a deal for four serials with a leading TV channel meaning more misogynist content is on its way.

The objective is not to show support behind Marvi Sirmed or oppose Khalil-ur-Rehman Qamar, but whether this is demonstrating a moral decay in our society. Modesty should be practiced and both sides should show restraint rather than tearing each other apart.
We should rid toxic practices such as casual misogyny at home and workplaces, show respect for women and end of forms of discrimination within the acceptable norms of culture, society, and religion. Threatening women or forcibly stopping the Aurat March should not be tolerated at any cost.