PSX ends on upward trajectory before Eid break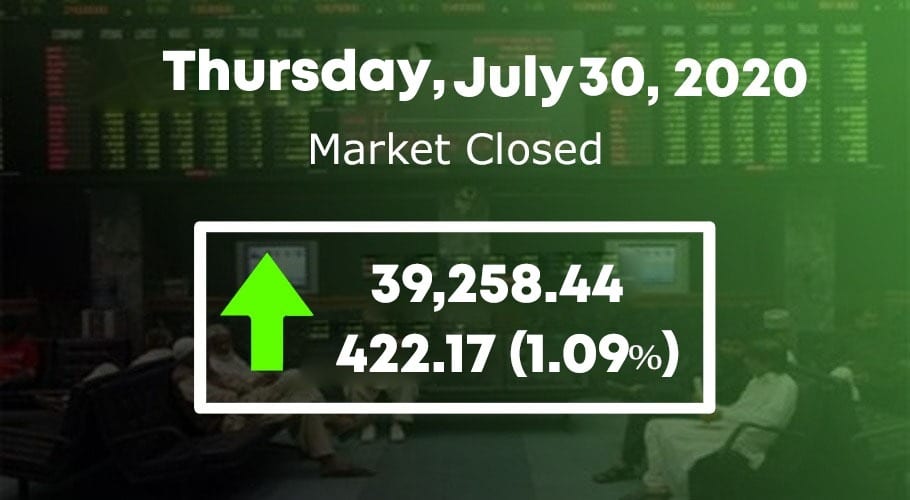 KARACHI: Bulls continued to rule the Pakistan Stock Exchange on the last session of the week before Eid-ul-Azha.
The stock exchange witnessed the highest volume since January 2017 as 11.27 billion shares were traded in July 2020.
The benchmark KSE 100 index recorded a monthly return of 14.05% and return of 4.38% on week-on-week basis as the indices traded in green for almost the entire session.
The benchmark KSE 100 index gathered 434.19 points touching its intraday high of 39,270.46. It settled with an addition of 422.17 points at 39,258.44.
With addition of 780.92 points the KMI 30 index closed at 63,107.65. While the KSE All Share index ended higher by 222.73 points at 27,559.26. Out of total shares traded 211 advanced and 126 declined.
The overall market volumes contracted from 508.22 million shares to 368.70 million shares. Shares worth Rs 17.09 billion shares were traded on Thursday.
Pakistan International Bulk Terminal Limited (PIBTL +5.83%), TRG Pakistan Limited (TRG +6.03%) and Pak Elektron Limited (PAEL +0.06%) were volume leaders of the day. The scripts had 43.31 million shares, 27.91 million shares and 18.07 million shares traded.
The sectors adding positivity to the KSE 100 index included Cement sector (75.11 points), Banking sector (69.54 points) and Fertilizer sector (54.14 points). Lucky Cement Limited (LUCK 36.94 points), The Searle Company Limited (SEARL 35.06 points) and Hub Power Company Limited (HUBC 29.99 points) were volume leaders of the day.
The automobile assembling sector after gaining 4.32% in its cumulative market capitalization closed as top gainer. Indus Motor Company Limited (INDU 5.65%), Honda Atlas Cars (Pakistan) Limited (HCAR 5.91%) and Pakistan Suzuki Motors Company Limited (PSMC 2.38%) all ended positive.
On the economic front, Pakistan's reserves slide lower by US$ 135 million with net reserves with the State Bank of Pakistan decreasing by 1.20%, while the net reserves with banks remained stable.
Sensitive Price Indicator (SPI) ended with a recorded increase of 0.31% over last mainly due to increase in the prices of food items.