PSX ends range-bound session on negative note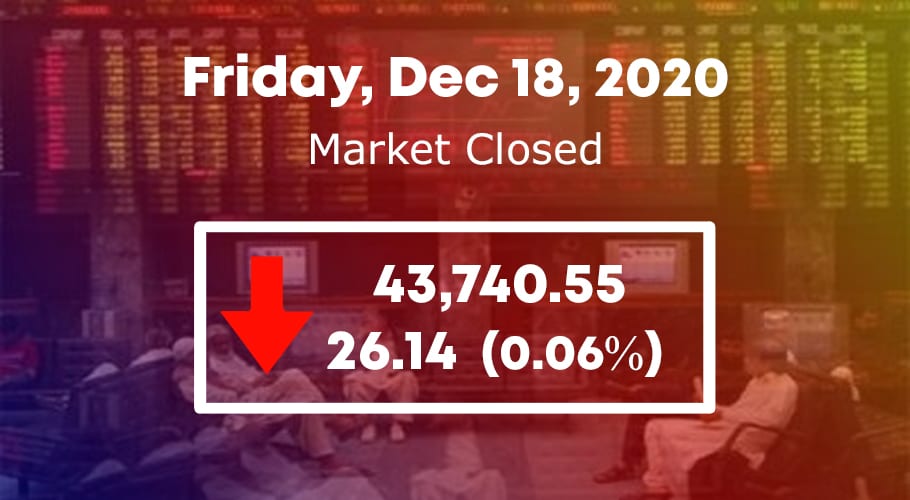 KARACHI: The Pakistan Stock Exchange (PSX) rallied in the opening hours of the trading session on Friday before declining and ending the day on a negative role.
The KSE 100 index surged as trading resumed and reached the highest point of 43,955.56 points. The bourse seems on course to break the 44,000 points barrier before bulls gained the upper hands and investors dumped stocked over profit taking and indices reached its lowest level of 43,638.33 points. The index finally settled with a decline of 9.17 points at 43,757.52. The total volume of share was 246.901 million valued at Rs13.708 billion.
The lower bench KSE 30 index also dipped by 14.81 points (-0.08%) and closed at 18,256.83 points. The total volume of share was 131.265 million. The KMI 30 index dropped by 39.92 points (-0.06%) and closed at 71,707.69 points, while All-Share Index increased by 85.04 (0.28%) and close at 30,759.68 points. The total volume of shares at the stock market were 481.223 million.
The market leader was Pakistan Refinery Ltd (PRL -3.68%) which traded 38.041 million shares. This was followed by Fauji Foods Ltd (FFL 1.11%), K-Electric Ltd (KEL 0.78%), and Invest Capital Investment (ICIBL 90.09%). The total volume of scripts was 31.396 million, 28.651 million, and 22.508 million.
This is the second day the stock market has witnessed a range-bound session. On Wednesday, the stock market saw muted activity as the KSE-100 index traded in a narrow range throughout the day and closed up by 109 points. The selling pressure emerged in the final hours of trading a day ago seemed to be easing, still a handful of sectors closed with losses. The day kicked off on a positive note but volatility emerged erased all gains.