PSX building attackers eliminated within eight minutes: DG Rangers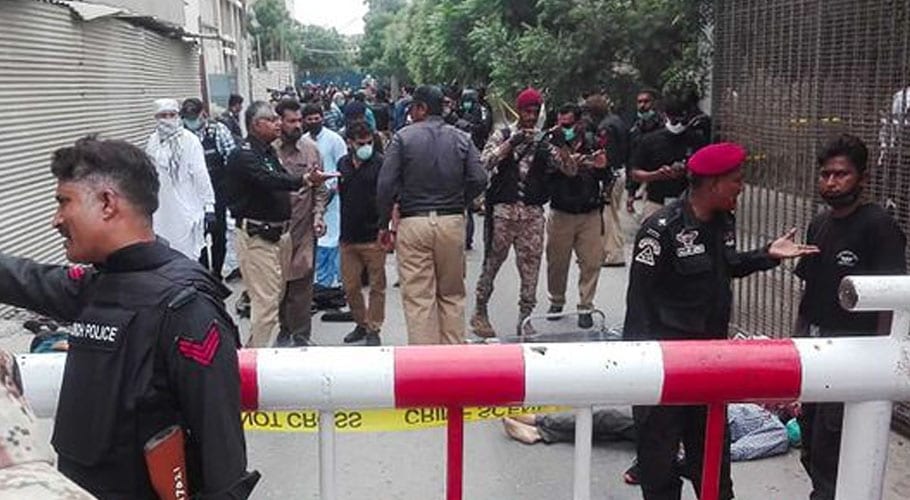 KARACHI: Sindh Rangers Director General Omer Ahmed Bukhari lauded the performance of the Law Enforcement Agencies and said that the four terrorists who attacked Pakistan Stock Exchange (PSX) building were eliminated within eight minutes.
Addressing a press conference today (Monday), DG Sindh Rangers informed the combined operation by security agencies started at 10:02 am and the attackers were killed by 10:10 am.
"Once the attackers were killed, the Law Enforcement Agencies carried out a clearance operation and normalcy was restored within 30-35 minutes," he added.
He further said, "Every terrorist was equipped with weapons that included Ak-47s, hand grenades, rocket launchers. They were also carrying food and water," adding that the terrorists had planned a long assault, that included bloodshed and holding people hostage.
"The attack was an attempt to portray a message that Pakistan is not safe. They wanted to damage Pakistan's economic activity," DG Rangers added.
He also said, "The terrorist attack could not have taken place without a hostile terrorist agency and number one on the list is RAW."
Commenting on the Balochistan Liberation Army, DG Rangers said that a final statement on it will be issued after investigation. However, he acknowledged that the attack bore similarities to an attack on the Chinese consulate in Karachi.
The DG Rangers also denied the suggestion that the attack represented an intelligence failure and said that the security forces' response was in place. Karachi police chief Ghulam Nabi Memon also backed Bukhari's statement.
The Maj-Gen also assured that the authorities will probe the attack thoroughly. "Pakistan's LEAs in the past few years have taken action against terrorist organisations, so the attack could be a frustration of hostile agencies."