Pakistan reports over 1600 COVID-19 cases in a day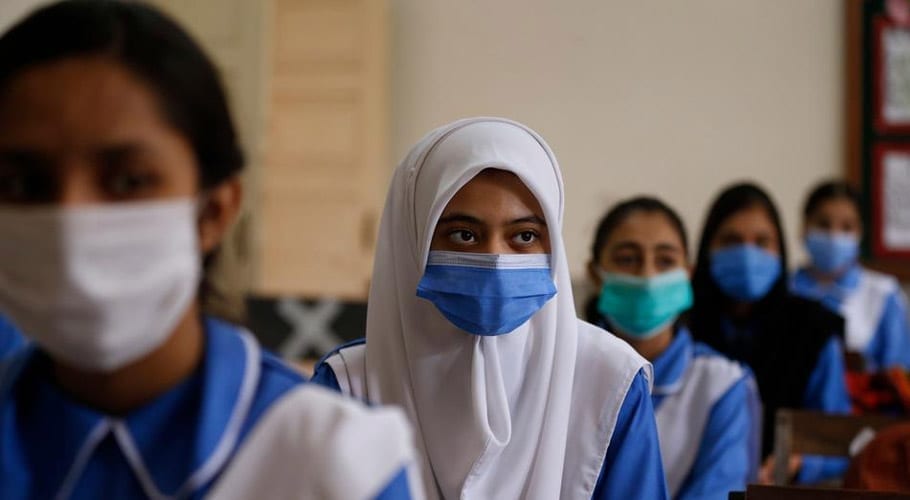 KARACHI: At least 1,650 new cases of coronavirus have been reported in Pakistan and the total number of infected people has reached 344,839.
According to the latest figures released by the National Command and Operations Center, there have been nine deaths from coronavirus in the last 24 hours and the total death toll has reached 6,977.
In Pakistan, 318,881 patients of coronavirus have recovered and 18,981 are undergoing treatment. The number of coronavirus patients in Sindh is 150,169 and in Punjab, it is 16,922. 40,657 cases have been reported in Khyber Pakhtunkhwa, 21,861 in Islamabad, 16,106 in Balochistan, 4,758 in Azad Kashmir, and 4,366 in Gilgit.
The coronavirus has killed 2,408 people in Punjab and 2,684 in Sindh. The death toll in Khyber Pakhtunkhwa has risen to 1,288, Islamabad 241, Balochistan 154, Gilgit-Baltistan 93, and Azad Kashmir 109.

The National Command and Operations Center has made it mandatory to wear a mask to prevent coronavirus in Pakistan. Citizens must wear masks when leaving their homes. Masks will be required for those working in government and private sector offices.
Read more: Sindh govt issues revised set of coronavirus SPOs
Provincial governments have been directed to make SOPs and masks mandatory in markets, shopping malls, public transport, restaurants.
According to the NCOC, the coronavirus is spreading in 11 cities across the country. Eighty percent of coronavirus cases in Pakistan were reported from eleven major cities. Karachi, Quetta, Lahore, Islamabad, Rawalpindi, Hyderabad, Gilgit, Muzaffarabad, and Peshawar also reported more cases of the coronavirus.