Pakistan determined to eradicate terror financing, money laundering: FM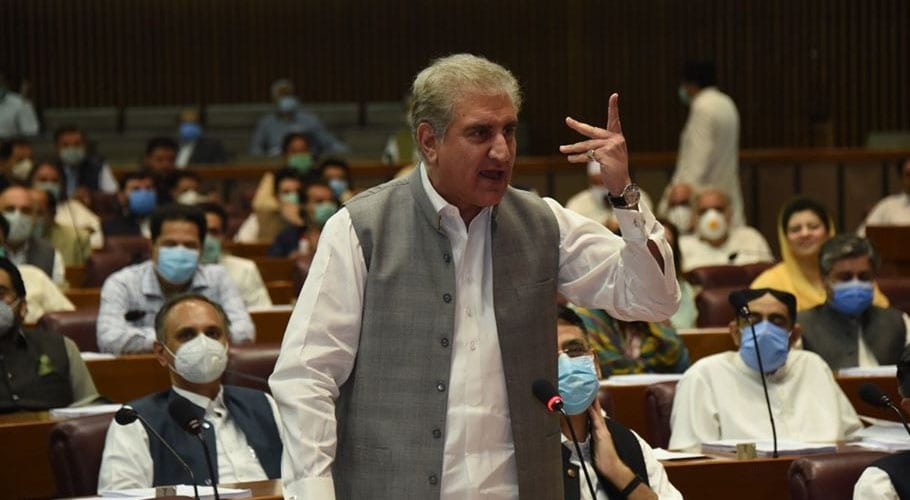 ISLAMABAD: Foreign Minister Shah Mahmood Qureshi has said the terror financing and money laundering are the menace that Pakistan has to confront and eradicate.
Speaking in the National Assembly on Wednesday, the foreign minister said long deliberations were held with the opposition parties to reach consensus on Financial Action Task Force (FATF) related legislation. He said the positive suggestions of the opposition were honestly incorporated.
The National Assembly on Wednesday passed the Anti-Terrorism (Amendment) Bill 2020, moved by Law Minister Farogh Naseem.
Earlier taking the floor, the law minister said it is a historic day that the FATF related legislation is being carried out today with consensus in the larger interest of the country.
He said whitening the economy and checking terror financing is important to take the country forward on the path of development. He said it is also our aim to simplify the legislation and ensure the protection of fundamental rights of people.
The House has also passed the Limited Liability Partnership (Amendment) Bill, The Companies (Amendment) Bill, 2020, The Control of Narcotic Substances (Amendment) Bill, 2020 and Islamabad Capital Territory Trust Bill, 2020.
Minister for Education Shafqat Mahmood has said that more universities are being established to promote higher education in the country. Speaking in the National Assembly, said our focus is also on improving the quality of higher education.
The chair suggested that a knowledge city be established in the federal capital for the promotion of higher education. For this purpose, the minister said a separate sector can be allocated for the establishment of both public and private sector institutions.