Pakistan among top five dangerous countries for journalism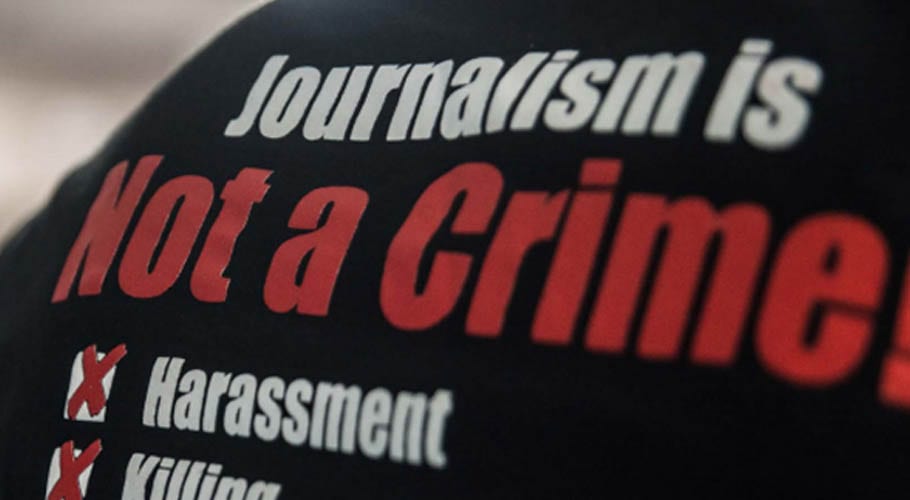 BRUSSELS: The International Federation of Journalists (IFJ) has released a 'White Paper on Global Journalism' listing five countries, including Pakistan and India, as the 'Most Dangerous Countries for Practice of Journalism in the World'.
The white paper marks the 30th anniversary of the "The List of Journalists Killed (1990-2020)", during which 2,658 journalists lost their lives in the line of duty.
Iraq topped the list of most dangerous countries for practicing journalism, as 339 journalists lost their lives, followed by Mexico (178 journalists), the Philippines (178), Pakistan (138), and India (116 journalists), Russian Federation (110), Algeria (106), Syria (96), Somalia (93) and Afghanistan (93).
This year the IFJ recorded killing of 42 journalists and media staff so far in targeted attacks, bomb blasts and cross-fire incidents in 15 countries, while a further 235 are in prison in cases related to their work.
In 2020 , Mexico tops the list for a fourth time in five years with 13 killings, followed by Pakistan (five), India, Afghanistan, Iraq and Nigeria (three each), the Philippines, Somalia and Syria (two each) while one journalist was killed in each of the six countries Cameroon, Honduras, Paraguay, Russia, Sweden and Yemen.
In the Indian sub-continent, murders of journalists in Pakistan (138) and in India (116) have featured almost every year in the list since 1990, making 40 percent of the total deaths of journalists in the Asia Pacific region.
The IFJ said when it published its first annual report of killed journalists in 1990, very few anticipated that the "journalists killed list" would still be going 30 years later spanning the entire globe.
 The casualty lists includes all journalists, freelance as well as support staff such as drivers, fixers and translators who died during news gathering activities. The total number adds up to a staggering 2658 killed in the last thirty years which equates to about two journalists or media workers killed every week.
Over 50% of journalists were killed in the ten most dangerous top spots featuring countries that suffered from war, crime and corruption as well a catastrophic breakdown of law and order.
Iraq which topped the table and was known as the most murderous country in the world for journalists, killings of journalists were rare in the first decade of this period.  It was not until 2003, at the onset of the US-led invasion that the numbers started stacking up.
Similarly, in Afghanistan the numbers (93) reflect the aftermath of the US invasion in 2001. This was also the case of Syrian war which started in 2011, and is still ongoing resulting in 96 journalists killed over the last nine years.