Only third party mediation can resolve Kashmir issue: FM Qureshi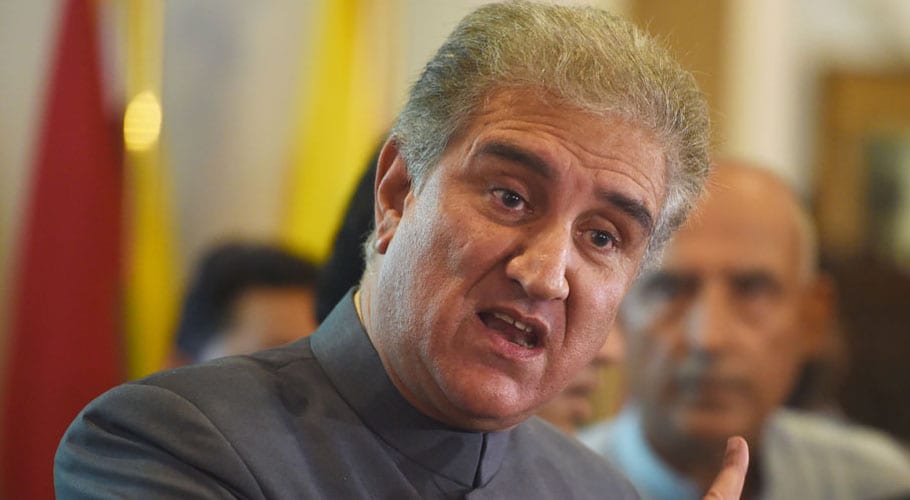 GENEVA: Foreign Minister Shah Mahmood Qureshi told Swiss TV that Kashmir Issue can only be resolved after third party mediation. He appreciated the inclusion of the Kashmir issue in the agenda of Swiss-India meeting between Indian and Swiss leaders.
Shah Mahmood Qureshi, who is on an official tour to Switzerland, where he addressed the United Nation Human Rights Council and highlighted Indian atrocities in Kashmir. It was during his interview with the SwissTV where he stated that he welcomes the decision of Government of Switzerland to include the Kashmir issue in their agenda of the meeting with Indian President Ram Nath Kovind on September 13.
Shah Mahood Qureshi's reaction came only after a statement was released by the Federal Department of Foreign Affairs (FDFA) in Switzerland which stated that the "situation in Kashmir" will be discussed with India among other things.
"Discussions will include the envisaged free trade agreement that the European Free Trade Association (EFTA) and India have been negotiating since 2008. Cooperation between Switzerland and India on energy and transport will also be addressed. Other items on the agenda include climate change, global security issues, and human rights, the situation in Kashmir and India's regional situation", read the FDFA statement.
India maintains that changes in Article 370 are an internal matter of India and the dispute of Kashmir is bilateral to India and Pakistan. The Prime Minister of India during his visit to the United States has said that he does not want to bother other countries with "Indias' internal issues".
European Union and the European Parliament has condemned the heinous acts of Indian forces in Kashmir. Several protestors outside of Indian embassies in different European capitals have demonstrated for India to end the curfew in the besieged state of Kashmir.
It has been 38 days since the valley is under the occupation of Indian paramilitary forces. The businesses, markets, and hospitals are closed, the leadership is currently being detained, whereas, the people are being abducted and subsequently, tortured by the Indian troops.