'No future when crooks are rulers' says Imran Khan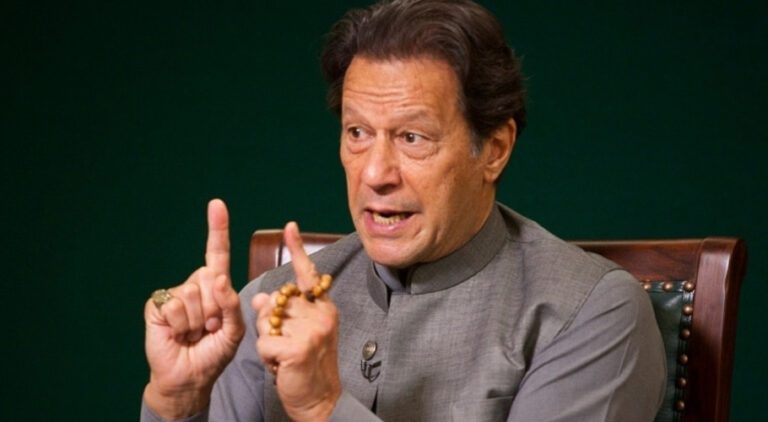 LAHORE: The Chairman of Pakistan Tehreek-e-Insaf (PTI) Imran Khan has questioned as to "what future can a country have when crooks are thrust as rulers upon it?.
Also read: Islamabad Police reach Lahore to arrest Imran Khan in Toshakhana case
His comments came after a team of Islamabad Police tried to arrest him on Toshakhana case. The team led by SP City Tahir Hussain had arrived at Zaman Park to, what was initially reported as, serve court notice to Khan. However, the Islamabad Police through its Twitter handle and IG Islamabad through his statement given to media disclosed that the team was in Lahore to arrest Imran Khan and shift him to the federal capital.
ایس پی اسلام آباد سٹی پولیس رانا طاہر حسین پی ٹی آئی قیادت کے ساتھ زمان پارک
ان کا کہنا تھا کہ ہم صرف نوٹس صرف مطلب دینے کے لیے آئے ہیں۔ #راج_کرے_گی_خلق_خدا pic.twitter.com/UbfZa9lu7y

— Farhat Malik. (@Farhat75626295) March 5, 2023
Taking to Twitter and dragging ex-army chief Gen (R) Bajwa at the peak of the entire episode when Islamabad Police was present outside his Zaman Park residence in Lahore, Imran Khan said "Shehbaz Sharif was about to be convicted by NAB for Rs.8 billion money laundering and by FIA for another Rs.16 billion corruption when he was rescued by Gen Bajwa who kept getting NAB cases trial postponed."
Also read: PTI leaders slam attempt to arrest Imran Khan
What future can a country have when crooks are thrust as rulers upon it? SS was about to be convicted by NAB for Rs 8 bn money laundering & by FIA for another Rs 16 bn corruption when he was rescued by Gen Bajwa who kept getting NAB cases trial postponed. While under trial he was

— Imran Khan (@ImranKhanPTI) March 5, 2023
He further said "while under trial he was made PM. He has since proceeded to select heads of those institutions investigating his cases – first FIA & now NAB – simply to get his name permanently cleared in Rs 16 bn corruption & Rs 8 bn money laundering cases against him. This is how a country becomes a banana republic."