Nadia Hussain shares Nabila's demeaning response to her makeup palette, calls her insecure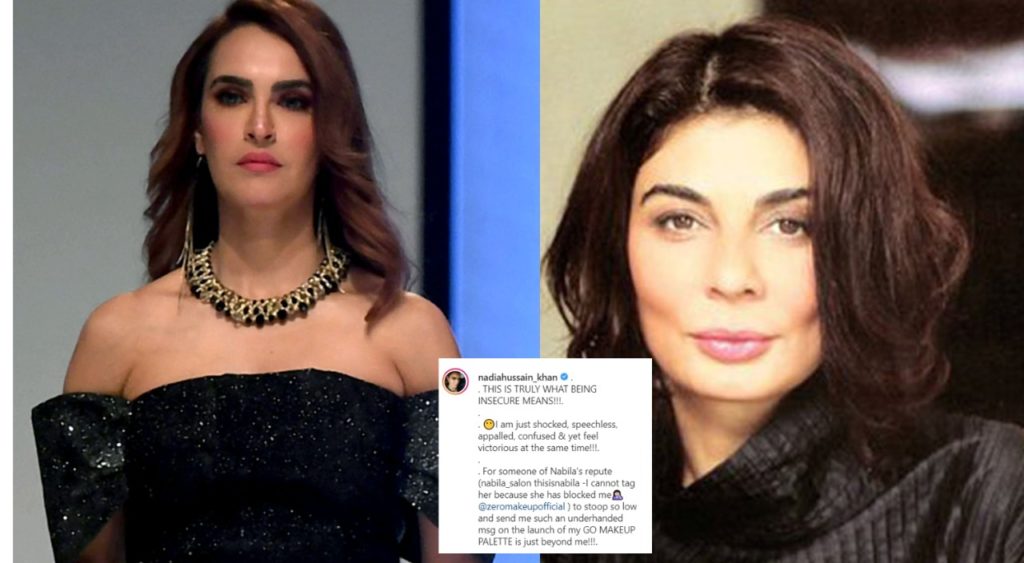 Supermodel turned beautician Nadia Hussain has called out Nabila for her abrupt message over the former model's 'Go Makeup' palette.
Nadia Hussain recently launched the 'Go Makeup' palette collection which is different yet has a similar vibe with Nabila's 'Zero Makeup' palette. 
Nadia, however, decided to not let go of Nabila's negative comments and confront her with a Instagram post. "I am just shocked, speechless, appalled, confused & yet feel victorious at the same time."
View this post on Instagram
The former model also revealed that Nabila has blocked her, "For someone of Nabila's repute (nabila_salon thisisnabila -I cannot tag her because she has blocked me🤦🏻‍♀️ @zeromakeupofficial ) to stoop so low and send me such an underhanded msg on the launch of my GO MAKEUP PALETTE is just beyond me!!!."
She concluded by saying that her brand might be similar to one wit Nabila's but the concept is different," My item may be similar but surely the concept is totally different, she has no copyright on such a design, many many international brands have such similar travel makeup kids and also that my product itself offers much much more in comparison to her zero makeup kit!!!!," she wrote.
Read more: Nadia Hussain to play villainous role in upcoming drama series
Social media users had different and quite funny replies for her post. One wrote, "So sad. Makeup kits and stuff everyone is making now I didn't expect it from her. More power to u." 
Another one wrote "Koi b zero makeup nikal sakta kia koi copy right hai k jo kam ounho nay kia koi or na kare.. Masla yh hai k apki price se wo dur gai… More power to u ❤️" and one of the users commented, "She is insecure because u introduced ur product in half price of her product 😆😆😆 people will buy ur product instead of her."