Last location of Sadpara, missing mountaineers traced through satellite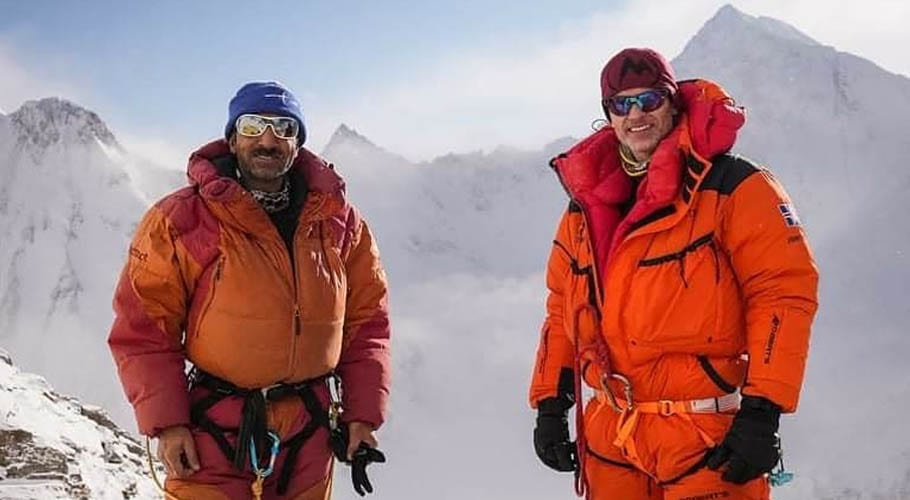 SKARDU: The last location of mountaineer Muhammad Ali Sadpara and two other climbers who went missing while attempting to summit K2 has been traced through satellite images.
The satellite pictures released by Iceland and Chile were shared with Pakistan that helped in identifying the last location of the missing climbers. The last location has been traced where the GPS of the team lost contact.
On February 5, Muhammad Ali Sadpara and two foreign climbers, John Snorri from Iceland and JP Mohr from Chile went missing while attempting to summit K2. A search operation to find the missing climbers was launched by the Pakistan Army rescue teams but failed to trace any clue of them.
امید کی ایک کرن، علی سدپارہ کی ٹیم نےممکنہ طور پر برف میں غار بنا لی ہے وہاں سے نکالنے کی کوشش جاری ہیں آئس لینڈ کی ایروسپیس نے تصاویر جاری کر دیں pic.twitter.com/Tp5RPl7T9I

— Muhammad Ali Sadpara (@AliSaaddparaa) February 11, 2021
A special search and rescue mission is using advanced technology to recover the missing mountaineers. The families of three missing climbers have vowed to carry on with a rescue mission despite the inclement weather with the help of sophisticated satellite data to search every inch of K2.
"For the first time ever, this team is working with the Iceland Space Agency to review SAR technology not SAT technology -never before used in search and rescue – to cover every inch of the higher elevations of this mountain despite the bad conditions," a statement said.
The families and friends have set up a virtual base camp to ensure a thorough search-and-rescue effort. The camp has been established by Rao Ahmad, Ali Sadpara's long-time friend and Sajid Sadpara, Ali Sadpara's son, along with British-American climber, Vanessa O'Brien, who also serves as Pakistan's Goodwill Ambassador and summited K2 with John Snorri.
READ MORE:  Rescue mission to use SAR technology in search for missing mountaineers
The team has got the support of the ICEYE – a global leader in small satellite synthetic-aperture radar (SAR) technology that produces high-resolution imagery collected through even clouds and darkness.
It said that ICEYE's slogan 'every square meter, every hour' gives the perfect visual acuity to view areas inaccessible to helicopters because of harsh winter conditions and excessive winds," the statement said.
According to Home Secretary Muhammad Ali Randhawa, the FLIR (Forward Looking Infrared Radar) mission with a C-130 aircraft will be used to find the missing climbers through thermal imaging while ground teams would also follow the path taken by the mountaineers.
The team has also got additional data from devices the climbers – Garmin, Thuraya, Inmarsat – together with interviews from witnesses to create a time frame of the mountaineer's locations during their summit bid.
Freezing temperatures and wind chill, averaging -50 degrees Celsius, and strong winds have made the flight operations next to impossible.
The team believes that the climbers could have built an ice cave or shelter, and if they had sufficient fuel to melt water, it could have extended their lifeline but it depends on how low they made it down on the mountain. The families have requested the government of Pakistan to continue to provide search and rescue support.