I was excited and scared working with Ali Zafar: Urooj Fatima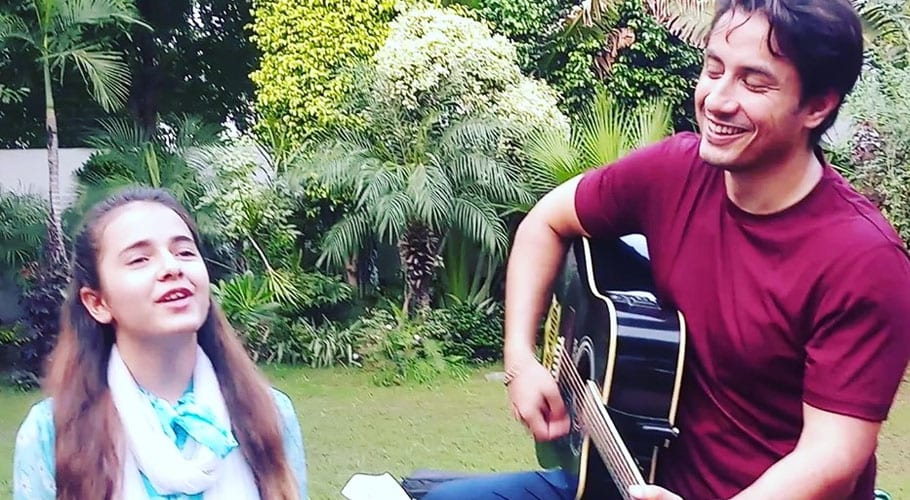 13-year-old Urooj Fatima is an emerging young talent of Pakistan. She began her singing career at the age of just eight and has already gained stardom.
She was seen singing alongside famous actor and singer Ali Zafar at just twelve years old with the song 'Laila O Laila'. Two years later, she makes a return with the song 'Allay' a rendition of a traditional Sindhi song.
MM News got the chance to meet with the teenage sensation and to know her better and about any upcoming projects she has signed with Ali Zafar.
1) How did the song 'Allay' became popular in Pakistan?
Urooj Fatima: Actually when I sang my first song 'Laila', I never expected that it will become such a huge hit. After that, we decided to sing a new song in another regional language and we chose Sindhi as in December, Sindhi cultural day is being celebrated.
2) Why did you choose 'Allay'?
Urooj Fatima: Abid Brohi, another musical artist who rapped in 'Allay', suggested the song. The music of the song was produced by music producer Hassan Badshah. His efforts have contributed in making 'Allay' so popular.
3) How was your experience in singing both songs with Ali Zafar?
Urooj Fatima: It was both an exciting and a scary experience as Ali Zafar, himself is a huge star. I was nervous at first but then when I got to meet and know him personally then I wasn't scared anymore. 
4) Any chance you got scolded by him?
Urooj Fatima: Ali Zafar never scolded me. I had faced a problem in singing as he sings with high pitch and I somehow failed to match his pitch. But he would explain to me in a lighter tone how I can improve my tone and match it with him. He has always been friendly. If a senior artist reprimands you it's because of your own betterment, take it as a compliment.
5) How would you sustain your popularity after 'Allay'?
Urooj Fatima: First of all, we should always thank Almighty Allah for all the blessings He has showered upon us. I have seen so many celebrities who are arrogant. We should not become proud in any case. This is the key to rule one's heart.
6) Being from tribal Balochistan, how did your family and others react to your singing?
Urooj Fatima: My family has always been supportive from the start. My brother, especially, is my support system, and always accompanies me wherever I go. 
7) At what age did you start singing and in how many languages you can sing?
Urooj Fatima: I can sing in five languages that include Balochi, Sindhi, Punjabi, Kashmiri, and Pashto. I have been singing since I was eight years old. 
8) Who is your inspiration?
Urooj Fatima: My inspiration has always been Abida Parveen. I got the chance to meet her too. She is such a humble human. I would love to sing once in my life with her.
9) What is your favourite music genre? 
Urooj Fatima: Songs I like to sing are mostly 'Sufi', but I love to listen to rock and fast songs mostly.
10) How did you get to sing  'Lail O Laila' with Ali Zafar in the first place?
Urooj Fatima: I used to participate in school functions and received immense appreciation too. I was later selected in a UNICEF program, they recorded my singing video and then sent it to Ali Zafar in Lahore and this is how 'Lail O Laila' came into existence.