Coronavirus: Smart lockdown imposed in Hyderabad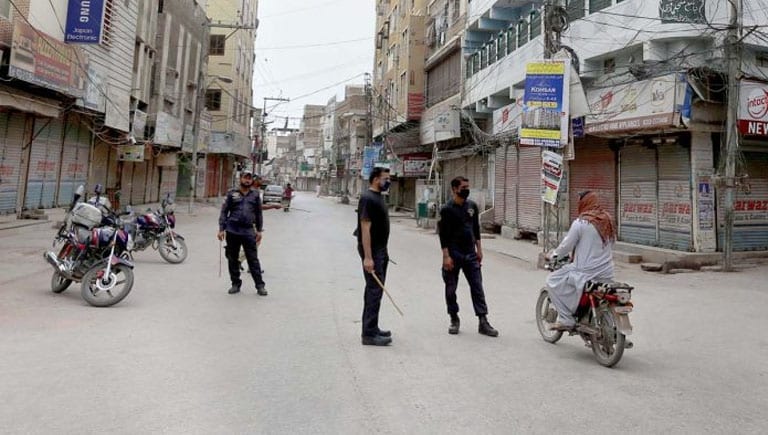 HYDERABAD: The Deputy Commissioner Hyderabad, Fuad Ghaffar imposed a smart lockdown in more localities of the city after they reported a spike in Covid-19 positive cases.
A notification has been issued regarding the imposition of smart lockdown in 11 Union Councils of the Hyderabad district from April 25 to May 5.
Visited different areas where smart lockdown has been imposed. Please wear masks and maintain social distancing as this is the only way to keep our selves and our families safe from Covid-19. pic.twitter.com/DsoM7ojxoR

— Fuad Ghaffar Soomro (@HyderabadDeputy) April 25, 2021
The neighbourhoods where smart lockdowns have been imposed include two UCs of Latifabad, five UCs of Qasimabad, and one union council Hyderabad rural tehsil.
The streets and houses identified as Covid-19 hotspots in these areas will remain sealed for a period of 11 days. According to the notification, all persons have to wear face masks who are entering or leaving the specific areas, whereas, unnecessary movement of the people has also been banned.
All business and industrial activities will remain suspended in these areas, while the pillion riding has been banned. All kinds of family gatherings will be banned in the said areas and the coronavirus-positive persons will be quarantined in their homes.
The positivity rate of COVID-19 cases has recorded at 24 pc in Hyderabad, the statistics of the National Command and Operation Centre (NCOC) stated.
During the past 24 hours, Pakistan reported another 118 deaths and 5,611 cases from the coronavirus on Sunday as the government mulls on enforcing a lockdown in large cities.
This comes a day after the country reported the highest number of COVID-related deaths. Pakistan reported 157 deaths on Saturday, making it the country's highest death toll since the pandemic began last year.
According to the National Command and Operation Centre (NCOC) data, 118 people died of COVID-19 in a single day, pushing the national tally to 17,117. As many as 5,611 new infections surfaced bringing a total number of cases to 795,627.
There were 55,611 samples were tested in the past day, bringing the total number to 11.5 million. The country's overall positivity ratio of new cases has increased to 10.17%.