CM Sindh urges to celebrate Eid with simplicity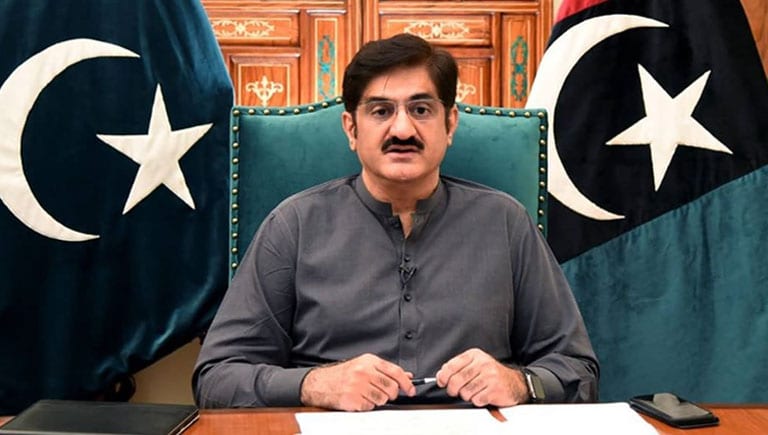 KARACHI: Sindh Chief Minister Syed Murad Ali Shah has urged people particularly in Sindh to celebrate Eid-ul-Fitr with simplicity to demonstrate solidarity with the coronavirus patients.
Addressing a press conference at the Sindh Assembly, the chief minister requested the prime minister to announce celebration of Eid this year with simplicity on a national level.
 "We are passing through a very critical phase of pandemic which is unprecedented in the recent history, therefore I am of the view that we all should celebrate Eid with simplicity and I would request the prime minister to announce celebration of Eid with simplicity on national level," he said.
The chief minister said that he was dedicating Eid-ul-fitr to frontline workers, doctors, paramedical staff, nurses, janitorial staff, police, Rangers and revenue dept officials who selflessly fighting with the virus to save life of others.
CM Sindh paid rich tribute to front line workers and revealed that 364 members of the health sector have affected by coronavirus, out of which 27 have recovered and seven lost their lives.
He added that 274 policemen were infected with coronavirus, of them 59 have recovered while five succumbed to the virus, while twenty Rangers personnel have been affected by the coronavirus.
The chief minister announced to give compensation to the frontline workers who lost their lives in the line of their duty. He said a compensation package was under preparation even for the private sector, added that there was a provision of compensation in the accidental deaths.
He said that the international experiences and ground realities showed that coronavirus has affected thickly populated areas badly, which is why there are a large number of cases in Karachi and Lahore.
CM Sindh urged people not to go to their villages and ancestral hometown on Eid as it may get others infected. "A present, the virus has not spread in rural areas and they are almost safe and if they are made infected then we will not be able to control it," he said, adding that he opposing the resumption of trains, passenger buses and flights operation.
He said that he has given special focus to contain coronavirus and would establish coronavirus hospitals in every divisional headquarters. He said that the federal government has provided a PCR machine in Sukkur where the Sindh government was establishing a lab to test coronavirus samples.