Saudi Shura Council chief calls for lifting of curfew in IOK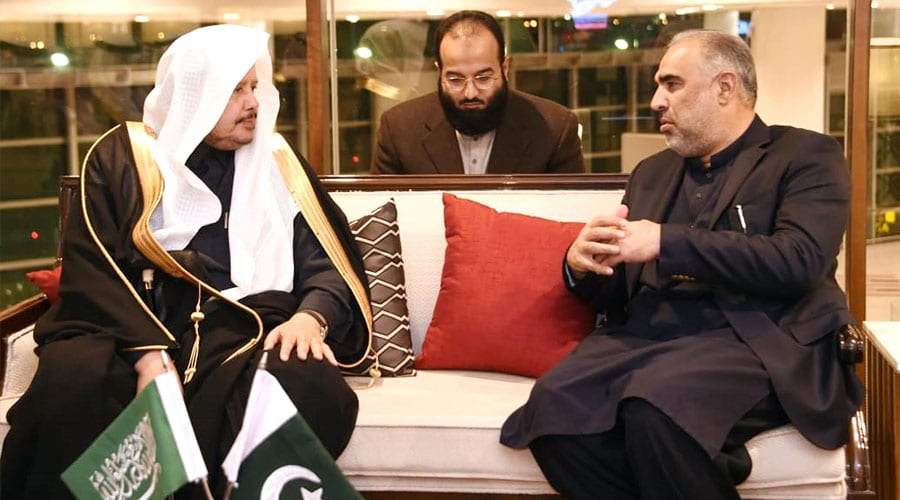 ISLAMABAD: Chairman of Saudi Shura Council Dr Abdullah-ibne-Muhammad Al Sheikh has called for lifting of curfew and lockdown in Indian Occupied Kashmir at the earliest.
Speaking to Speaker National Assembly Asad Qaiser along with delegation of Saudi Majlis-ash-Shura, he said that Saudi Arabia wants resolutions of all conflicts including the Kashmir issue through dialogue.
The Chairman of Saudi Shura Council also agreed with Asad Qaiser's proposal of convening conference of parliamentary representatives of Islamic countries on Kashmir.
He condemned the brutalities being perpetrated on the Muslims of Kashmir and Palestine. He said that they stand by the Kashmiri people and express firm solidarity with them.
The chairman said friendly relations between Pakistan and Saudi Arabia are strengthening with the passage of time. He said his country considers Pakistan a sincere ally. He also appreciated the role of Pakistan in promoting harmony among the Muslim countries.
Speaking on the occasion, the Speaker National Assembly Asad Qaiser said Pakistan and Saudi Arabia are tied in everlasting cultural, religious and historical bonds.
He said Pakistan values its cordial brotherly relations with Saudi Arabia. Asad Qaiser said Saudi Arabia always supported Pakistan in the hour of trial.
The Speaker strongly condemned the incident of desecration of Holy Quran in Norway, saying the OIC must play its proactive role to stop such incidents. He said continuous contacts between parliamentarians of both countries can play a pivotal role to further strengthen the brotherly ties.
Earlier, Chairman Saudi Shura Council along with a delegation arrived in Islamabad. Speaker National Assembly Asad Qaiser received the delegation at the airport.
In his brief chat, Asad Qaiser said the visit of the Saudi delegation would strengthen the relations between Pakistan and Saudi Arabia.
Chairman Saudi Shura, on the occasion said Pakistan is their second home and the aim of the visit is to further promote fraternal and parliamentary ties between the two friendly neighbouring countries.
The Saudi delegation will meet Speaker National Assembly as well as President Dr Arif Alvi, Prime Minister Imran Khan, Senate Chairman Sadiq Sanjrani, federal ministers and their Pakistani counterparts.