An ode to Lionel Messi who completes football
When Lionel Messi hangs his boots, our world will feel empty and pale and withered, but we will mourn that day, now we celebrate the greatest player the game has ever seen.
On Sunday, tears flowed at Lusail stadium when Gonzalo Montiel buried the winning penalty for a 4-2 shootout to give Messi the chance to finally put his hands on that one elusive trophy he longed so much, probably more than anything in his illustrious career. It was far from easy to get here, he went through many heartbreaks, but he picked himself up to try again. A lesson for youngsters perhaps, never to give up on your dreams.
People who truly appreciated the game, knew that it didn't matter if Lionel Messi won a World Cup or not, he had already secured his place as one of the greats of the game. And it's silly, in all fairness, to judge a career of a thousand games on just one game. But football will always be the most literal-minded, outcome‑based form of sporting chaos, so people always come back to say he never did what Diego Maradona did in 1986.
That is why it looked like almost a religious experience when Messi was lifted onto the shoulders of an adoring crowd of hundreds on the Lusail pitch itself.

It is the historic outlier of having a player who can now be called the greatest in history, his immense range of gifts elevating a squad that is otherwise good rather than anywhere near great.
Also read: In Pictures: Lionel Messi's Argentina wins FIFA World Cup 2022
In this tournament, Argentina wasn't always convincing. They were frequently quite susceptible, and the fact that they were so close to being eliminated was consistent with the rest of this World Cup. Given the chronic dysfunction of the Argentine game, they were not brought together or given a distinctive identity by any overarching football concept or wider football culture. So, the way the brilliant Scaloni got this tournament right, that is where there might well be a lesson. All things considered, Argentina lacked a team or squad that could compete with France. You could maybe say something similar when comparing them to a lot of teams at this World Cup. They did have a fight and fine tactical adaptability, though, that made them more effective than anyone else.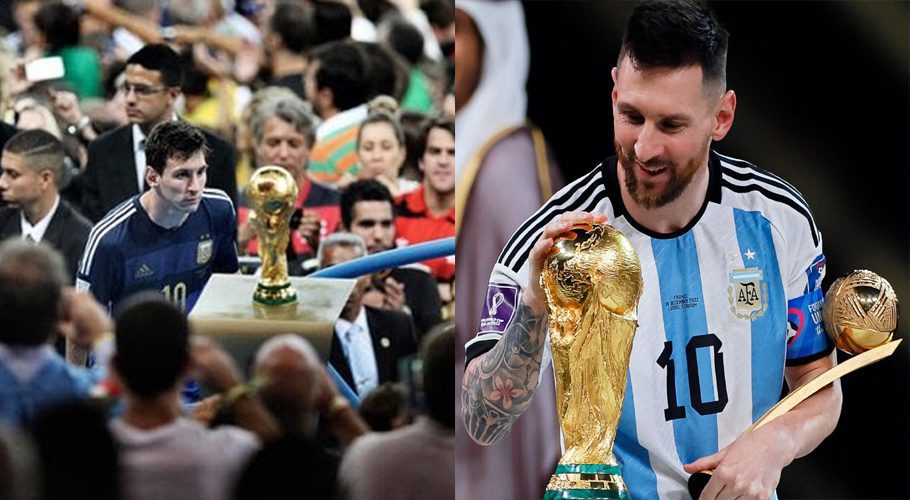 Watching Messi at Qatar World Cup was something unique. This was not just a performance of edge and thrust and decisive moments, but all of those things carved out of the air in his own unique physical style, a footballer capable, at 35, of basically making this thing up in his own image.
This is a Messi world cup, his story in so many ways. In Qatar he has seven goals and three assists and won the Golden Ball as the best player. The stellar moments here are his. The goal against Australia and the goal against Mexico were incredibly Messi-like, if not quite in this way. Josko Gvardiol, the defender everyone was talking about, was twisted inside out and back again, his hips broke, and his legs were wrapped in a cartoon knot. This ludicrous assist against Croatia quickly became iconic.
Lionel Messi is the first player in World Cup history to become the Man of the Match in the last 16, quarter-final, semi-final, and final… 🤯🐐 pic.twitter.com/LTAR2RiSd4

— SPORTbible (@sportbible) December 18, 2022
Messi also leads the tournament stats assists, chances created, dribbles and fouls suffered. Which still hasn't stopped him. He has played every minute. Argentinians wanted a Maradona-like World Cup from him, and he finally delivered. In fact. And that's not just about excellence; there's the energy, the expression of commitment, identification. The sacrifice. Messi had been holding his hamstring for a long time, then he did that to Gvardiol. He was the one who said that this wasn't done following Saudi Arabia's defeat, demonstrating the utter refusal to let go.
Lionel Messi completed football at Qatar 2022, the greatest story to be told by the campfire in long winter nights. The final to end all finals was played in his 26th and final World Cup match, a moment that's never been equaled before and probably never will be again. So bizarre that nothing made sense until he was smiling and waving to the crowd. At that point, everything made sense. There was finally closure after what he and they had gone through—the most successful career of all had been condensed into one ridiculous evening.
So, when Lionel Messi hangs his boots, our world will feel empty and pale and withered, but we will mourn that day, now we celebrate the greatest player the game has ever seen.