Ali Zaidi visits control room to review Muharram security in Karachi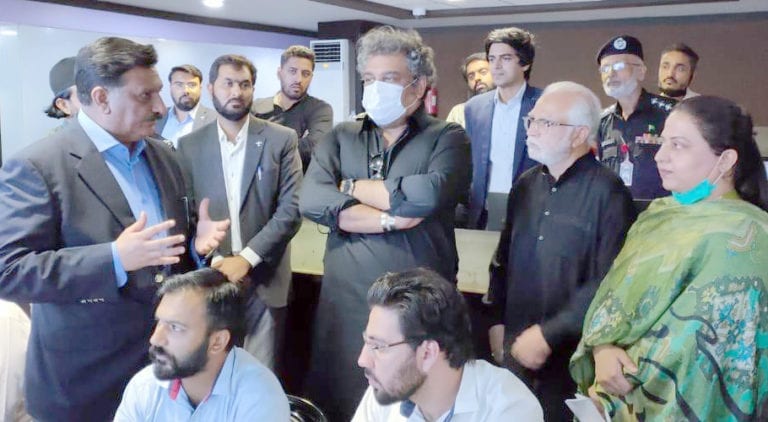 KARACHI: Federal Minister for Maritime Affairs Ali Haider Zaidi on Saturday visited the Sindh Police Command and Control Center established at Civic Center Karachi, to review security arrangements put in place for Muharram in the metropolis.
On this occasion, Adviser to the Ministry for Maritime Affairs Mahmood Maulvi, government officials, and other police high-ups were also present.
The PTI leaders were given a briefing about the security arrangements and other necessary measures to ensure the peaceful holding of Muharram processions and Majalis with special focus on the 10th of Muharram in the metropolis.
They were informed that Muharram processions and majlis were held in different areas of the metropolis for which foolproof security arrangements had been made with special focus on the sensitive areas.
وفاقی وزیر @AliHZaidiPTI کا سندھ پولیس کمانڈ اینڈ کنٹرول سینٹر کا دورہ

NRTC اور سندھ پولیس کے تعاون سے محرم کے جلوسوں کی سیکیورٹی اور نگرانی کے انتظامات کیئے گئے۔

NRTC نے پہلی بار آرٹیفیشل انٹیلیجنس پر مبنی ٹیکنالوجیز متعارف کروائی

بہترحکمتِ عملی پر علی زیدی کا اطمینانِ اظہار۔ pic.twitter.com/TJmoY0gubG

— Ali Zaidi News (@AliZaidiNews) August 30, 2020
Project Director of NRTC said that control rooms had also been set up at the district level to closely monitor and coordinate security arrangements for Muharram processions.
The officials told that control rooms were constantly in touch with the Home Department's control room feeding real-time data and information to it.
The minister was informed that NRTC introduced Artificial Intelligence Technologies in Karachi for the first time.
Ali Zaidi expressed satisfaction with the better strategy of the Command and Control Center.
He appreciated effective security arrangements with modern technology taken for better security during Muharram.