Shaheena Baloch's murder – A plot to suppress the voice of journalism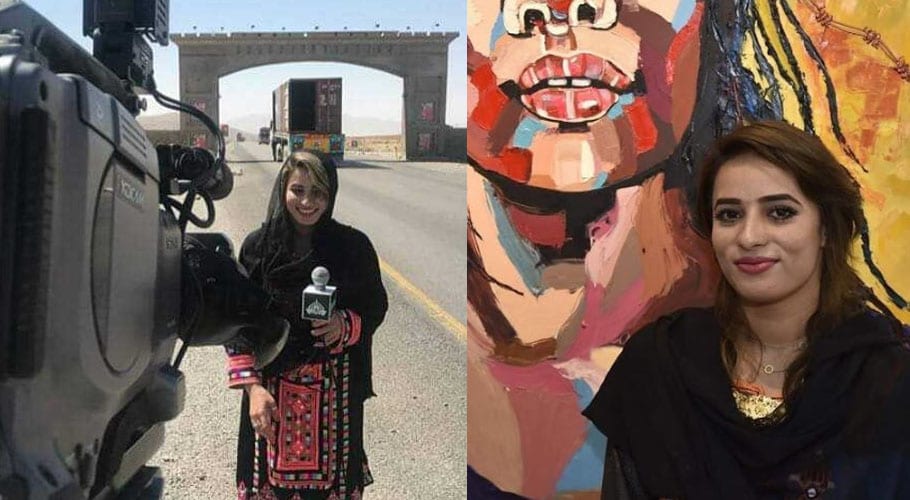 A female journalist, Shaheena Shaheen Baloch affiliated with
Pakistan Television Network (
PTV) Bolan was brutally murdered in Turbat, Balochistan on 5th September.
Shaheena was the editor of a Balochi Magazine Razgahar (Saheli). She was also an activist and artist who was vocal about human rights and women's rights issues.
Four years ago, Shaheena worked as an anchor and morning show host at PTV Bolan – Pakistan Television Network's regional service based in Quetta, Balochistan.
Shaheena was allegedly shot twice to unsurvivable injuries by what the initial investigation has found to be her husband.
The Coalition for Women in Journalism is devastated and furious with this killing of the female journalist in Pakistan.
In the last 10 months, this is the second murder reported in the country.
Shaheena Baloch's murder
According to Amjad Raheem, a police official in Turbat police station, Shaheena's maternal uncle – had filed a first information report (FIR) against her husband Mehrab Ghichki.
Reports and FIR suggest that she was brought to the Teaching Hospital in Turbat by her husband, but could not survive the injuries.
After killing Shaheena at his uncle's residence in the PTCL Colony, Mehrab drove her in a car and dropped her at the hospital.
Mehrab Ghichki then left the car at the scene and fled. This information was shared by district Keech's superintendent police Najeeb Panjrani within the press release.
The police have alerted all the checkpoints across Turbat to apprehend the culprit.
SP Turbat said that Shaheena's husband killed her. The two had attempted court marriage. While reports suggest it's a case of honor killing, the police have not confirmed it as such yet, because they are still investigating the murderer's motive.
Shaheena's culprit must not be spared at any cost. She actively campaigned for gender equality and women empowerment through her work.
Inspiration for women in Balochistan
Shaheena worked with PTV Bolan four years ago and was currently running her own publication in Turbat.
Her murder has left female journalists devastated in the country.
The lack of rule of law is the reason why it is so easy for a man to kill his wife and get away with it.
We cannot call it honor killing and wrap up the issue.
It is very essential for the perpetrator to be punished.
Women in our part of the world, especially in Balochistan are still not treated as equals.
They are only respected if they stay at home or only step out for domestic chores.
The minute a woman attempts to work as a professional, questions are raised and she is immediately labeled.
Shaheena was a brilliant journalist and artist.
She used her journalistic voice and artistic skills to advocate for the rights of Baloch women.
She was an inspiration for women and young girls in Balochistan as well as for the whole country's female journalists.
Shaheena was the editor-in-chief of a publication that shed light on crucial issues related to women's rights in our society.
When it comes to giving voice to the downtrodden section of society in Pakistan, Shaheen was the most trusted and fearless name. She has used her writing skills to advance the cause of women's empowerment.
Her concern for Hindu girls getting raped and forcibly converted to Islam had provoked thinking on the issue even PM Imran Khan. 
This proved how passionate she was to work for the betterment of Baloch women.
Her artwork also depicted their struggles. Balochistan already has very few female artists, but the way Shaheena portrayed the issues women in the province faced was something we have never seen anyone else attempt.
The void left after Shaheena's murder, both in journalism and art, can never be filled.
Unprecedented magnitude case
This is a case of unprecedented magnitude. A woman journalist has yet again been murdered in the country.
A perpetrator is a man in her life.
This had happened in a province where security agencies have great gripped yet fail to maintain law and order as culprits commit crimes without any hesitation and fear.
The state continues to do nothing about the violations women face in the country.
If culprits are punished for the violations and murders of women in the country, these violations would stop.
The state of Pakistan has a duty to its female populace and absolutely needs to look into this matter immediately.
While the murder is being linked to honor killing, it sets a dangerous precedent for women journalists working in Balochistan, where press freedom and women's rights continue to be violated on varied occasions.
We as a nation demanded authorities in Balochistan to find Shaheena's murderer and punish him for the heinous crime he had committed. The murderer should not be allowed to get away with the crime at any cost.
It is the duty of both Balochistan and the federal government to swiftly investigate the case and punish Shaheena's murderer.
Women journalists demand security
Women journalists across the country have condemned the murder of Shaheena Shaheen and demanded the government take solid steps to protect women journalists.
The journalists from print, electronic as well as digital media stated that the provincial and federal governments must take immediate and urgent steps to pass the Journalist Protection Bill with added provisions that recognize the gendered threats that women journalists face and institute accountability mechanisms to mitigate and address them.
The group was of the view that the murder of Shaheena, who has been allegedly killed by her husband, was a grim reminder that women journalists face innumerable barriers and threats on the basis of their gender.
Pakistan's government must take immediate, concrete steps to ensure the protection of journalists and human rights defenders who have been subjected to threats in the country.