Reham Khan says PM Imran will no longer find shoulders to climb on container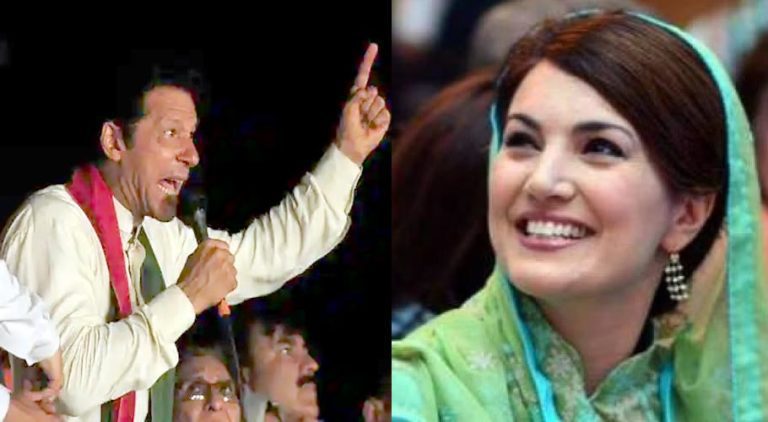 ISLAMABAD: Reham Khan, the ex-wife of Prime Minister Imran Khan, has said that the premier would no longer find the shoulders and the finger to climb on the container again.
دوبارہ کنٹینر پر کھڑے ہونے کا شوق رکھنے والے سلیکٹڈ یہ جان لین کہ اب وہ کندھے موجود نہیں ہیں جنہوں نے ان کو کنٹینر پر چڑھایا تھا اور نہ ہی وہ اُنگلی ہے جس کا انتظار کیا کرتے تھے

— Reham Khan (@RehamKhan1) March 14, 2022
In her Twitter message, Reham Khan said that those who are interested in standing on the container again should know that the shoulders that used to put them on the container are no more and the finger they used to wait for has also vanished. ۔
The former first lady said the government is confused. Interior Minister is changing his statements every day, while FM Qureshi sees Jahangir Tareen group nowhere, but Governor Sindh Imran Ismail is tasked to hold talks with them. 
حکومت کنفیوزن کا شکار ہے۔ ایک دن وزیرداخلہ کچھ کہتا اگلے دن اپنے بیان کی تردید کر دیتا, ایک طرف وزیر خارجہ کو ترین گروپ کہیں نظر نہیں آرہا ہوتا دوسری طرف گورنر سندھ کو اُسی گروپ سے مذاکرات کا ٹاسک سونپ دیا جاتا ہے

بندے اسمبلی میں پورے کرنے ٹاسک ڈی چوک میں پورے کرنے کا دیا جارہا

— Reham Khan (@RehamKhan1) March 14, 2022