PSX loses 283 points as bearish spell continues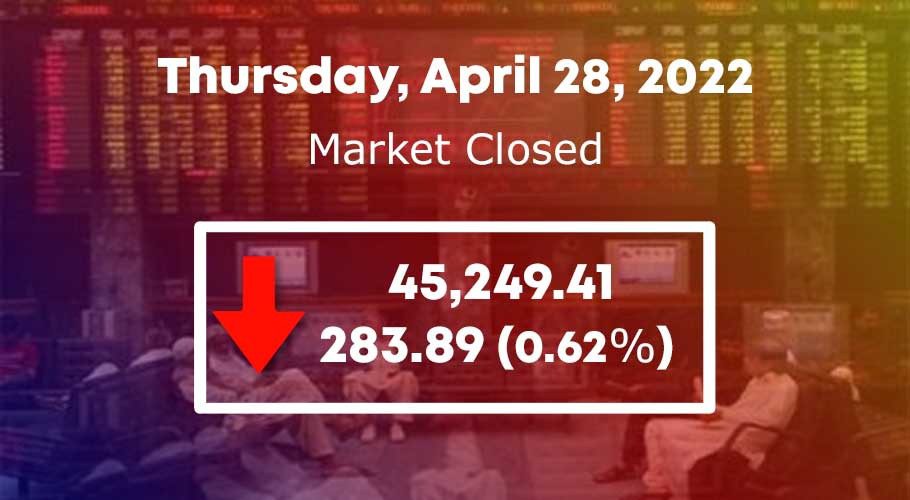 KARACHI: The Pakistan Stock Exchange (PSX) continued its bearish spell on Thursday as it continued to witness selling pressure and closed in the red.
The benchmark KSE-100 index plunged in early trading session and reached the lowest level of 44,656.96 points, after a steep decline of 867.81 points. It eventually regained control in later trading before closing on a negative note.
The bourse decreased by 283.89 points, with a negative change of 0.62 percent, and closed at 45,249.41 points. The total volume of shares were 155.366 million valued at Rs7.031 billion.
The lower bench KSE-30 index decreased by 112.60 (-0.65%) and closed at 17,314.51 points. The total volume of shares were 96.606 million. The KMI 30 index declined by 438.72 points (-0.59%) and closed at 74,012.17 points, while the All Share Index dropped 225.34 points (-0.73%) and closed at 30,774.66 points. The total volume of shares traded were 325.438 million at the stock market.
The highest number of shares traded belonged to WorldCall Ltd (WTL -1.18%) which traded 37.497 million shares. This was followed by Cnergyico Pk Ltd (CNERGY -6.48%), Hum Netwok Ltd (HUMNL -2.56%) and Pak Elektron Ltd (PAEL 1.33%). The number of scrips traded were 34.661 million, 27.431 million, and 14.115 million, respectively.
Of the 95 traded companies in the KSE100 Index 26 closed up 68 closed down, while 1 remained unchanged. Sectors propping up the index were Chemical with 28 points, Automobile Assembler with 26 points, Investment Banks/Securities with 12 points, Pharmaceuticals with 12 points, and Cable & Electrical Goods with two points.
Sector-wise, the index was let down by Technology & Communication with 57 points, Fertilizer with 50 points, Power Generation & Distribution with 46 points, Oil & Gas Exploration Companies with 44 points, and Cement with 41 points.
The investors remained cautious about reports that Pakistan has decided to seek an additional package of $3.2 billion from Saudi Arabia and increase the total facility to $7.4 billion from the existing $4.2 billion to boost the dwindling foreign reserves.