PM meet Youtube chief, other business leaders in Davos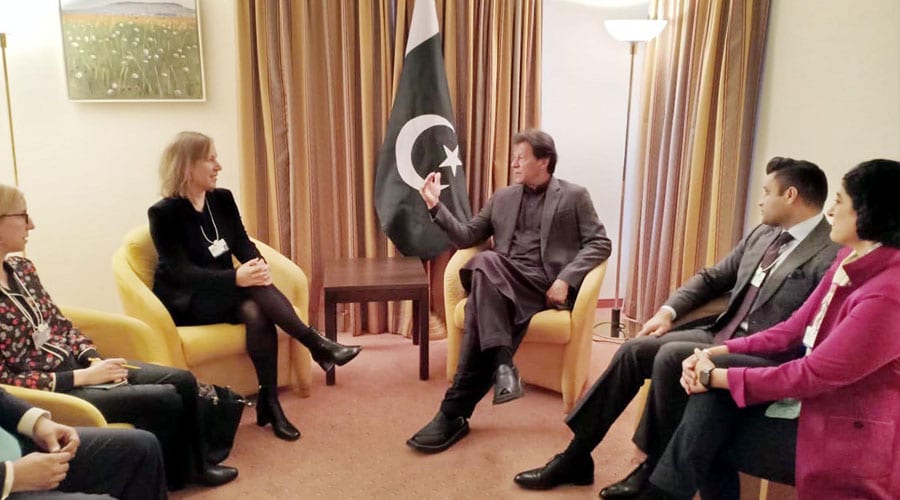 DAVOS-KOLSTERS: Prime Minister Imran Khan on Wednesday met with CEO of YouTube Ms Susan Wojcicki on the sidelines of World Economic Forum (WEF) annual meeting in Davos.
SAPM Syed Zulfiqar Abbas Bukhari and Amabssador at large on Investments Ali Jehangir Siddiqui, Head of Digital Media Ms Tania Aidrus were also present during the meeting.
Discussions were held on utilising digital platforms for image building of Pakistan, promotion of Tourism, Education and attracting investments.
Ina a separate meeting, CEO of Siemens Mr Joe Kaeser called on Prime Minister Imran Khan at Davos. Advisor on Commerce Abdul Razaq Dawood, SAPM Syed Zulfiqar Abbas Bukhari, Ambassador at Large on Investments Ali Jehangir Siddiqui were also present.
While appreciating the long association of Siemens with Pakistan's energy sector, the prime minister stated that skills development of youth is among top priorities of the government.
In this regard, the prime minister expressed his desire that Siemens can introduce high technology skills training programs for Pakistani engineers under the "Hunarmand Jawan" (skills for all) program.
The prime minister emphasised that skills development will ultimately lead to employment generation and economic growth, an area where Siemens' cooperation will prove helpful. He invited Siemens to support Pakistani universities, and also extended an invitation to CEO of Siemens to visit Pakistan.

In another meeting, CEO SAP Mr Christian Klei called on Prime Minister Imran Khan at Davos and apprised him that his company has a long association with Pakistan since the last 20 years with its most significant project being digital system of administering salaries and pensions of the government of Pakistan.
PM Imran Khan stated that the Government of Pakistan has prioritized to utilize digital applications for governance including citizen's complaints redressal, improving procedural efficiency of government offices and for improving ease-of-doing-business.
The Pime Minister invited SAP to support the government's "Digital Pakistan" initiative particularly in digital skills development and training of youth in collaboration with major universities.
PM Imran Khan also offered SAP to establish software labs in Pakistan to do software engineering work for SAP in Pakistan. Klein appreciated the government of Pakistan's focus on digitisation of governance and economic sectors. He expressed SAP's commitment to train young software engineers in Germany and using them for software development in Pakistan.