Pakistan stands with Kashmir until its freedom: PM
ISLAMABAD: Prime Minister Imran Khan has said that Pakistan is standing with the people of occupied Kashmir until its freedom from India.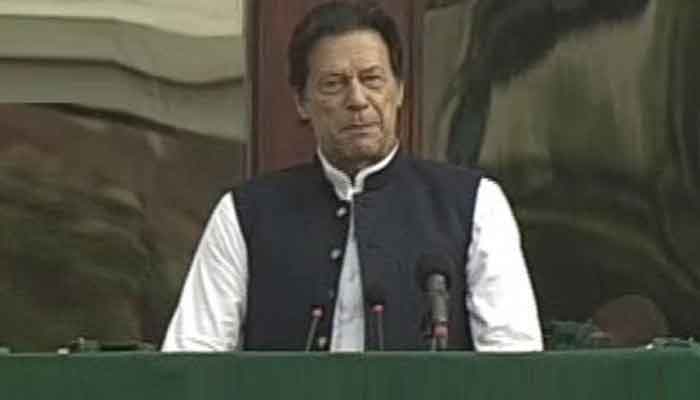 While addressing the nation, Imran Khan said, "Kashmiris are going through a difficult phase. Approximately eight million Kashmiris for the last four weeks have been locked under curfew from the past 26 days with shortages of medicines and food."
The prime minister said that the time has come to free the occupied valley from Indian atrocities .
Imran Khan said that Indian Prime Minister Modi has occupied the valley just like Nazis in Germany. Rashtriya Swayamsevak Sangh (RSS), inspired by Nazis, believes in not giving equal rights to Muslims.
He said, "They think Muslims should be taught a lesson that they are not equal citizens. Today, the whole world is seeing what is happening in occupied Kashmir."
The prime minister said that if India has planned to take any action in Azad Jammu and Kashmir, every brick would be countered with a stone.
He said , "I will raise the issue at the UN General Assembly. If today the world does not stand against Modi's fascist government, it will not stop here."
He further said, "In the end, my heart is telling me that Narendra Modi, what he's doing in Kashmir, is his arrogance, he has played his last card. Kashmir will be free now."
People across the country observed 'Kashmir Hour' today from 12:00 PM to 12:30 PM today in the wake of India's outrage in occupied Kashmir.
Sirens were blared, the national anthems of Pakistan and Kashmir were played and traffic was also halted to mark the solidarity hour.