Pakistan reports decline in COVID-19 cases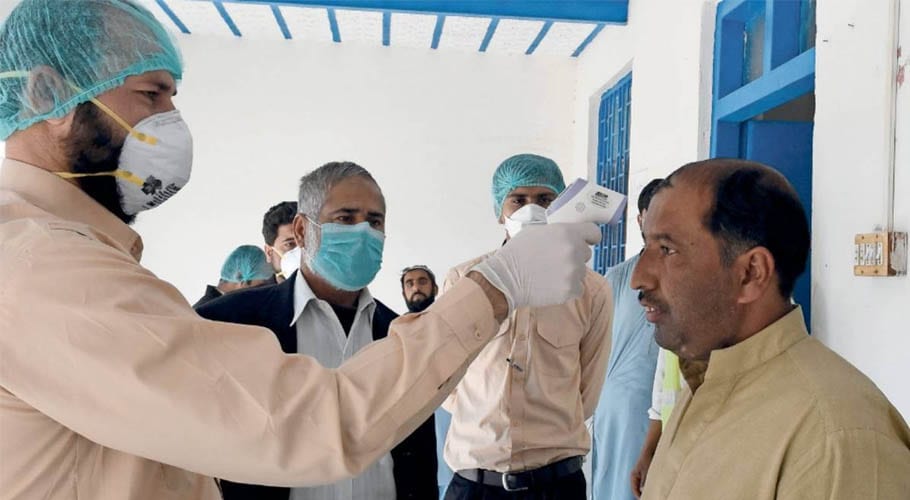 KARACHI: Pakistan has reported 2,691 coronavirus cases over the past 24 hours, taking the national tally of infections to 234,508. 
As per the detail, 77 deaths were reported during the past 24 hours, taking the tally of casualties to 4,839. According to the National Command and Operation Centre, 94,713 COVID-19 patients are undergoing treatment while 134,957 patients have recuperated from the disease thus far.
Out of the total number of infections, Sindh reported 96,236, around 82,669 cases in Punjab, 28,236 in Khyber Pakhtunkhwa, 10,841 in Balochistan, 13,557 Islamabad, 15,87 in Gilgit Baltistan and 1,383 in Azad Kashmir.
Read more: New Zealand restricts entry for own citizens escaping coronavirus
Out of a total of 4,839 deaths, Khyber Pakhtunkhwa has reported 1003 deaths, Sindh 1,572, Balochistan 124, Gilgit-Baltistan 30, Punjab 1,899, Azad Kashmir 36 and Islamabad Capital Territory has reported 140 death.
The recoveries in Punjab stand at 47,054, Sindh 53,885, Khyber Pakhtunkhwa 16,549, Islamabad 8,610, Balochistan 6,131, Gilgit-Baltistan 1,224, and Azad Jammu Kashmir 741.
Earlier on Monday, Adviser to the Prime Minister for Health Zafar Mirza tested positive for COVID-19.
"I have tested positive for coronavirus. Under med advice I have isolated myself at home, and taking all precautions," he tweeted.
"I have mild symptoms. Please keep me in your kind prayers. Colleagues, keep up the good work! You are making a big difference, and I am proud of you," he added.