MM recommends: Eight 'iconic desi food' one must try when visiting Karachi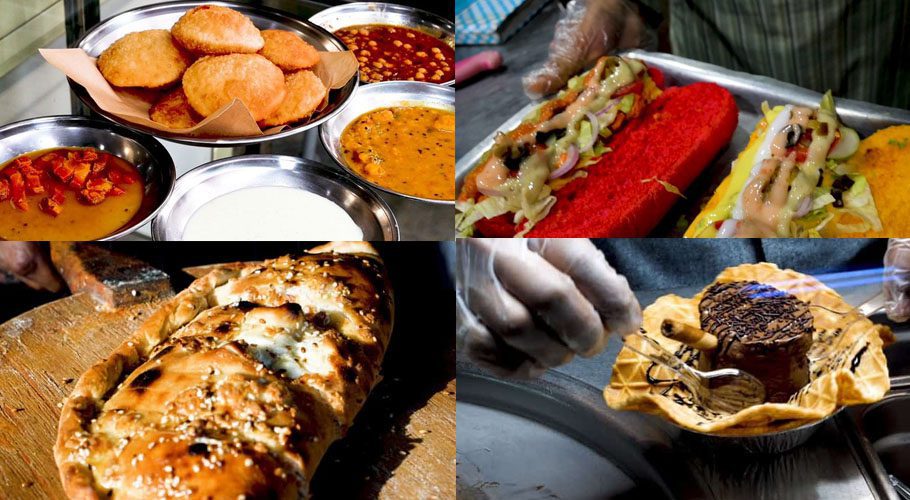 Just like the city itself the cuisine of Karachi is a mixture of numerous different influences.  There is no food on earth that you won't find on the different streets of the of lights because one does not need an outlet to sell talent if your hands know the magic. 
From roadside dhabas to upscale cafes, Karachi has a variety of delicious foods to offer. Today, M.M News has found another unique food for the people of Karachi, which will surely be a treat for foodies. So according to MM News, here is a list of the top eight dishes you must eat when in Karachi.
'Mughlai Paratha'
One of Shah Faisal's oldest joints, Mughlai Parathas are pure nostalgia. Crispy, flaky, pan-fried, and a one-dish delicious meal. This chicken Mughlai paratha is stuffed with egg and BBQ chicken. 
Price: Rs 180
Location: Shah Faisal Colony
Delhi Sweet's Kachoris
When it comes to trying delicious kachoris then the Delhi Sweet is the perfect spot to try mouth-watering desi delicacy. The specialty of this place is the taste of the Kachori remained consistent throughout the years. It has been selling freshly cooked Kachoris for ages. 
Location: Shah Faisal colony number 3
Price: Rs180 per dozen and Rs15 per piece. 
Egg French Fries
French Fries are one of the most loved fast foods all over the world. They are the most common food item that appears repeatedly on the menus of diners, fast food restaurants, pubs, and bars.
Even though the most commonly available French fries are the fried, crispy, salted ones, many other varieties are liked in various parts of the world. However, we have found another suggestion that might help spice up your French fry life by its unique 'Egg French Fries'.  
Location: Landhi No 3
Price: Rs. 150
Rabri Lassi
Karachi is not only famous for its food but also drinks.  You not only find a delicious beverage but also some rather unique ones.
Lassi is one of the most popular cold beverages during the hot summers. It is made with a mixture of milk and yogurt with a small amount of sugar or salt (depending on your preferences) which gives it a sweet and sour taste.
Location: Saudabad area
Price: Rs. 80
Roadside Broskis
Two youngsters in Karachi have started selling colourful burgers which have become the newest fad in town. 
They are a wide variety of seven sauces and 5-6 types of veggies at the customer's choice. They use chicken tikka sauce for the spicy red sandwich and peri-peri for the mild one.  The red sandwich has been named 'Redster' and the yellow one 'Boomster'. 
Location: Char Minar, Bahadurabad
Price: Rs 260 
Naan Stop
Pizza has become a once-in-a-week treat as the Karachites are the true lovers of this classic Italian dish. Naan Stop' is not an ordinary pizza, it's baked in a clay oven similar to how traditional naans are made.
The tikka flavoured 'Naan Stop' was soft in texture but flaming spicy in taste. The ingredients were perfectly balanced placed on naan. The specialty is that it kept the distinct taste kept on reminding that its pizza naan. 
Location: Gulistan-e-Jauhar
Price: Rs.330 to Rs.500
Crunch Cherry
Crunch Cherry, has made people addicted to it and today any celebration is considered dull without this dessert. New Al-Mehran Rabri & Sweets offers the best 'Crunch Cherry' in town. 
Crunch cherries have become famous not only in Karachi but also across the country and even housewives ask us for its recipe.
Location: Nazimabad, Block 3
Price: Rs. 620 per kg
Creamello Ice Cream
The ultimate creamery 'Creamello' serves the three best ice cream flavors – classic, gelato, and Italiano. The specialty about these flavours are these are premium with ZERO percent essence.
The main ice cream is served on a cold plate with customized flavours. Ferrero Rocher ice cream is their signature icecream and their most famous flavour is pista. Nutella chocolate, dark chocolate, chocolate brownie – these are all flavours for chocolate lovers.
Location: Gulistan-e-Jauhar
Price: From Rs 90 to Rs 280