Man arrested after charging at pulpit in Makkah's Grand Mosque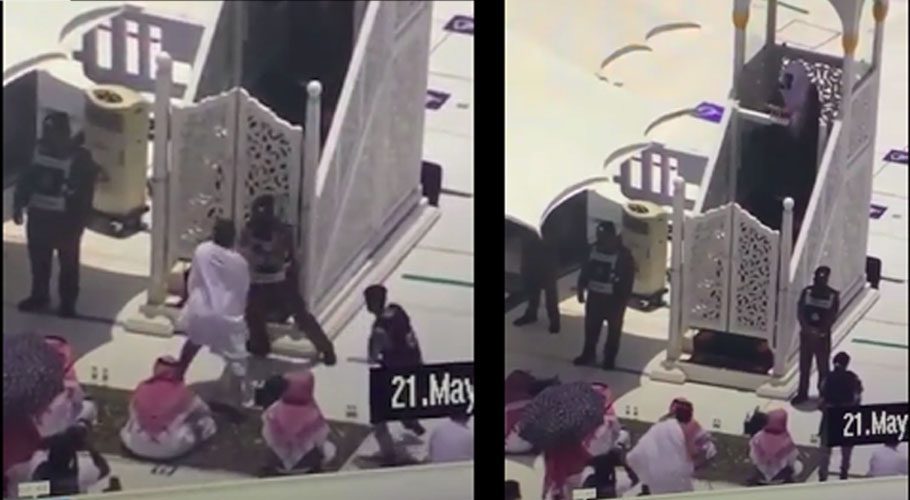 MAKKAH: A man had been arrested after he charged at the pulpit from which the imam was delivering the sermon before Friday prayers at the Grand Mosque (Masjid-ul-Haram) in Makkah.
The man, dressed in an ihram (the traditional attire of pilgrims) and brandishing a stick, was quickly apprehended and legal procedures against him have been taken, Makkah police said.
In the incident, captured on video, the man can be seen running towards the pulpit before security guards tackled him and apprehended him.
According to reports, Imam Sheikh Bandar Al Baleelah was delivering his sermon when the man attempted to rush the pulpit, while brandishing a stick.
Congregational prayers at the Grand Mosque underwent a seven-month hiatus in 2020 following the COVID-19 pandemic but resumed in October. In the first ten days of Ramazan this year, around 1-1.5 million people visited the mosque.
VIDEO: Attempt by a man to approach the Khateeb during Jumu'ah Khutbah was thwarted by security officials on Friday pic.twitter.com/mFrNu5iUt6

— Haramain Sharifain (@hsharifain) May 21, 2021
In April, Saudi police arrested an armed man, shouting slogans in support of terrorist outfits, from the first floor of Makkah's Grand Mosque.
Makkah police spokesperson said the man had been spotted at the mosque's first floor, brandishing a knife and sloganeering after Asr (evening) prayer and was immediately arrested by the Grand Mosque Security Force.
The spokesperson further said that legal proceedings had been initiated against the suspect. The man was reportedly heard shouting expressions supporting terrorist groups and organisations.
Sheikh Abdul Rahman Al Sudais, head of the Presidency for the Two Holy Mosques, said, "The man did not respect the sanctity of the place. God has made the Grand Mosque a place of worship, including prayer, tawaf (circumambulation) and Hajj."
Earlier in October 2020, a Saudi man crashed his speeding car into the outer gates of the Grand Mosque. Guards had chased the driver as he crashed through two barriers before hitting one of the southern entrances of the mosque.