Long March: What Imran achieved and what went wrong?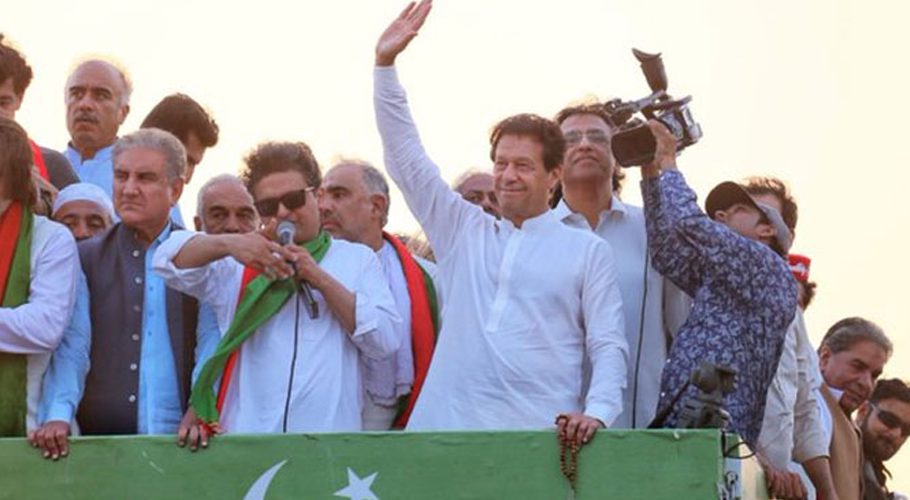 Imran Khan's Long March is in its last phase. A difficult day is coming to an end. The protest is expected to continue tomorrow. There will be opportunities to analyze it. Let's take a look at what has happened so far in the Azadi Long March. What did the PTI do right, what did they do wrong?
Imran Khan's strategy
It seems that Imran Khan learned a lesson from the experience of 2016 when the PTI went out to protest and start shutting down the shutters of Islamabad to start the Panama case, then Imran Khan was confined in Bani Gala. Then KP Chief Minister Pervez Khattak took out his protest caravan and the Panama case started in the Supreme Court.
This time Imran Khan held rallies in several cities of KP according to the pre-conceived strategy, mobilized the workers and then reached Peshawar instead of going to Bani Gala after the Multan rally five days before the long march as planned. That was a good strategy. It was wrong to be arrested or detained before the protest. This time the planning was good and excellent.
Imran Khan stayed in Peshawar and activated his workers. One day they reached the markets of Peshawar. The point is, that such threats are not a threat to life. His workers were charged with his friendly behavior. Through interviews with various channels and V-loggers, he exaggerated his narrative and kept the workers mobilised.
Wrong timing, wrong day
The timing of this real freedom long march is wrong and inappropriate in every way. Who runs a protest movement in such hot weather? There is no precedent for this in Pakistani history. Imran Khan's compulsion is that he does not have much time and he wants to put constant pressure on the government, otherwise, this is not the season for long marches and rallies.
The choice of hot weather was a compulsion, but the choice of the working day was made by Khan himself. Earlier it was heard that there would be a long march on 29th May. 29th May would be Sunday and weekend or Sunday was the best day for such a march. Public and most private institutions have holidays on this day, shops etc. are also closed, in which case more justice workers could have joined. Most of Imran's followers are professionals, and weekend suits them. 
Performance of PTI leaders
Imran Khan seems to have given different tasks to different leaders. Although some of them showed disappointing performance like Mahmudur Rashid was arrested before the protest in Lahore. Senator Ijaz Chaudhry also disappointed Khan as he was also arrested in a raid at his brother house, when he was hiding there.
In Lahore, Hamad Azhar and Dr. Yasmeen Rashid did a great job. Hammad Azhar made his caravan, changed the route a bit and then managed to get out of Lahore by removing obstacles on Ravi Bridge. The provincial government and the police were trying their best to prevent a single PTI vehicle from leaving Lahore. Hammad Azhar pushed them out and reached Muridke. Attempts were made to arrest him two or three times. He kept on clashing with the police. He was also injured but did not give up.
This is what Dr. Yasmeen Rashid did. Like 75-year-old cancer survivor Dr Yasmeen Rashid lioness, she has been fighting with police batons and tear gas shells. She kept hitting and making her way through the police batons, all the windows of her car were smashed, Dr. Yasmeen but persisted.
PTI activists fought a fierce battle in front of the House of Justice in the hot afternoon and then to Yadgar Chowk in an attempt to move forward. Terrible shelling was inflicted on them, as well as ruthless baton charges. PTI workers showed courage and kept coming back again and again. Although their numbers were not extraordinary, but those who came out proved to be extraordinary in their determination and enthusiasm.
Other cities of Punjab
The highest resistance was seen in Lahore, where the media also gave more coverage. Protests also took place in Pindi in the afternoon and clashes with the police continued. I don't know why the media did not cover Islamabad and Pindi. Therefore, the details of this collision could not reach the general audience.
The situation remained mixed in other cities of Punjab, with no significant response in many cities. There is no way that the people in large numbers come out and succeeded in breaking the police barriers. The convoy of PTI MNA Faizullah Kamuka from Faisalabad was relatively large. Workers from Mianwali managed to break through the barriers. Fawad Chaudhry also launched his own caravan, although it was not large in number, but Fawad Chaudhry managed to get good coverage on social media. Zartaj Gul took her caravan from DG Khan at night and she reached Islamabad first.
South Punjab
The situation in South Punjab as a whole was very disappointing. Protests in Multan, the largest city, have stalled, although the city's three MNAs are Shah Mehmood Qureshi, his son Zain Qureshi and Amir Dogar. The three members of the National Assembly and most of the members of the Provincial Assembly had already reached Islamabad individually, leaving the workers helpless.
Shah Mehmood Qureshi is on the core committee of PTI. He had gone to Peshawar for the meeting of core committee to be held on May 22. After that he could have returned to Multan but he did not come. Qureshi's son was also missing. Aamir Dogar also reached Islamabad with pleasure even though he was supposed to be active in Multan. Later he kept posting his selfies on social media with ten to twenty people. They should have evacuated people from Multan though. In practice, the PTI, with its multi-member assembly, could not get even a few hundred workers out for Islamabad. If Imran Khan gets a chance, it should be reviewed.
Strategy of sending workers to Islamabad first
As part of its planning, PTI sent a section of its workers from different cities to Islamabad three or four days in advance. If they can reach Islamabad, some demonstrations can take place. His organization in Islamabad and Pindi also hid perfectly and in the last phase of the long march, they all appeared, turned towards Zero Point and D-Chowk and made the police barriers useless. Before Imran Khan's caravan arrived, they created a regular atmosphere.
Relief from courts
It was also a good strategy of the PTI to reach the court earlier regarding the removal of obstacles and non-arrest regarding the long march. The party got relief from the Islamabad High Court about the arrests, the Lahore High Court did the same. The Supreme Court upheld the idea of ​​giving space for protests and persuaded the government and PTI to negotiate.
The High Courts and the Supreme Court benefited from this relief. On the one hand, the intensity and brutality of the police decreased. He realized that those who were caught would have to be released immediately, and it was not difficult to remove the obstacles again. Second, Rana Sanaullah and other "eagle" leaders of the PML-N were discouraged. Maryam Nawaz Sharif was annoyed and had to say that the courts should not give her relief. His statement was in itself a contempt of court, but it showed the frustration of the PML-N's aggressive stance.
Game is on
According to the modern terminology of cricket, the game is on, the game is still going on. Imran Khan and his workers managed to reach Islamabad in spite of all obstacles and government repression and violence. This is their victory and in a sense a political victory. But much remains to be done. Imran Khan's main goal is to end the government and get an early date for the next election. Much remains to be done. They have to show full people's strength and perseverance. It is not necessary that the problem be solved easily even then. The real war will be about nerves and also what are the powerful forces thinking?