Kartarpur corridor: British Sikh awards PM 'Lifetime Achievement'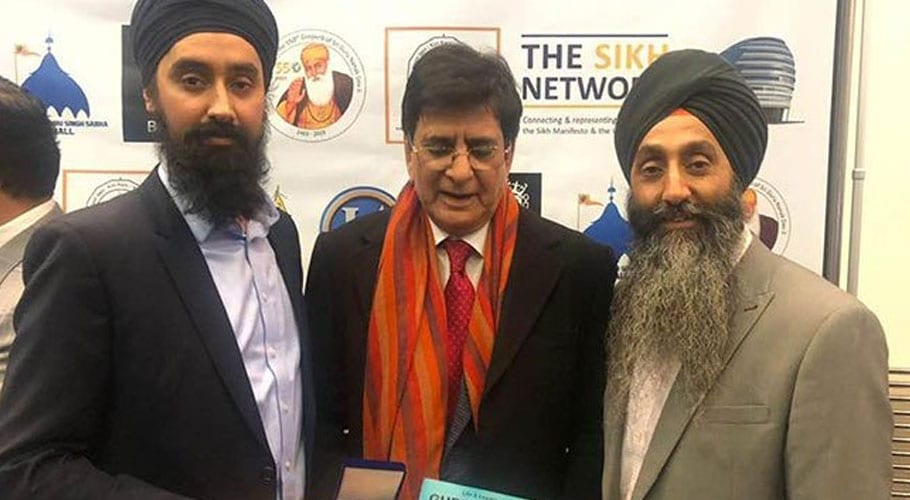 LONDON: Two leading British Sikh organizations have awarded Prime Minister Imran Khan a 'Lifetime Achievement' for opening the Kartarpur corridor.
The event co-hosted by the Sikh community was held at the City Hall in London, Sikh Federation (UK) and Dr. Onkar Sahsota, a member of the London Assembly in collaboration with London Mayor Sadiq Khan.
Read more: PM inaugurates Kartarpur Corridor for Sikh pilgrims
On this occasion, spokesman for Prime Minister for Trade and Investment in UK & Europe, Sahibzada Jahangir, received the award on account of the Imran Khan.
Also read: Pakistan issues over 4200 visas to Indian Sikh pilgrims
The London mayor welcomed guests and highlighted the achievements and contributions of Sikhs in the UK.
According to Sahibzada Jahangir, the Kartarpur Corridor strengthened the idea of Sikhs as a bridge between cultures and countries.
Also read: Felt nice to visit Kartarpur corridor, says Sunny Deol
He continued that how the prime minister would be honored to receive this recognition and how keen he was to support Sikhs visiting Pakistan.
Jahangir added, "It all became possible because of Imran Khan's love and passion for peace and humanity. Sikhs from all around the world are invited to visit Pakistan and enjoy our brotherly hospitality and love."
Also read: SBP issues memorial coin to mark Guru Nanak's 550th anniversary
Principal adviser to the Sikh Federation Singh also admired the Kartarpur Sahib Yatra Committee who were undertaking an accommodation building project to provide UK pilgrims with first-class facilities.
Also read: Over 10,000 Sikhs to attend Kartarpur inauguration: FO
The 'Lifetime Achievement' award to the prime minister was given after he inaugurated the Kartapur corridor on 9th November 2019  for Sikh pilgrims all over the world. 
Former Indian Prime Minister Manmohan Singh, cricketer-turned-politician Navjot Singh Sidhu, and Bollywood actor Sunny Deol also attended the inaugural ceremony.
Also read: Modi praises PM Khan to open Kartarpur corridor for Sikh Pilgrims