Karachi receives first winter shower as weather turns pleasant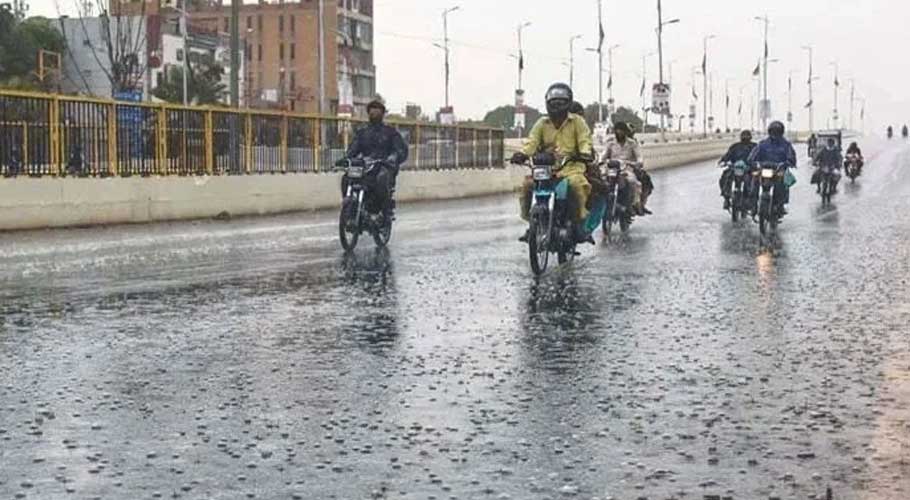 KARACHI: The weather of Karachi turned pleasant on Sunday morning when many areas of the city received first winter shower and is expected to remain till tomorrow night.
There was no word from the Met Office about the amount of rain received in Karachi, but the downpour turned the city's weather pleasant.
Light showers were reported in multiple areas of the city including Model Colony, North Nazimabad, North Karachi, M.A Jinnah Road, Malir, Guru Mandir, Lasbela, and adjoining areas.
Earlier in the day, the Pakistan Meteorological Department (PMD) had drizzle in the city and other areas of Sindh in the next 24 hours. The showers are expected to continue till December 27.
According to PMD Director Sardar Sarfaraz, a westerly system will enter Sindh from Balochistan tonight increasing chances of light and isolated showers in Karachi, Sukkur, Mirpurkhas, and adjoining cities.
"Rains will be coupled with strong and cold winds", he said. After the rains, the mercury in Karachi is expected to dip to/below eight degrees Celsius. The humidity level recorded in the city today morning was 90%.
Meanwhile, on December 27, rain/thunderstorm and snowfall are expected in upper Khyber Pakhtunkhwa, Islamabad, upper Punjab, Kashmir and adjoining hilly areas, Gilgit Baltistan and coastal belt of Balochistan and Sindh, said the PMD.
Parts of Punjab, Balochistan receive first winter rain
Light rainfall was reported in different areas of Punjab and Balochistan on Sunday. A westerly wind system entered the provinces, the Met office said, adding that the rain-bearing system could have impacts in Karachi today and tomorrow.
Under the new system, various areas of Balochistan, including Quetta, Muslim Bagh and Toba Achakzai, received light showers. Meanwhile, Ziarat Valley and its adjoining areas received snowfall. In Punjab, rain was reported in Lodhran, Kabirwala, Gojra, Jahanian, Toba Tek Singh and other cities.