Imran Khan's remarks against state institutions a conspiracy: PM Shehbaz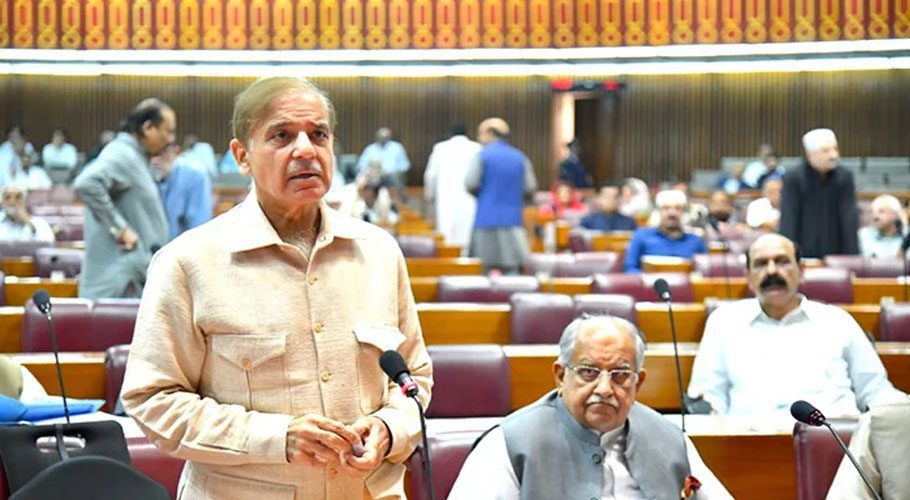 ISLAMABAD: Prime Minister Shehbaz Sharif on Monday said that the statement by ex-prime minister Imran Khan against a national institution was in fact a conspiracy against Pakistan, which needed to be stopped immediately to avert chaos.
Addressing the National Assembly, the premier said that Imran Khan told his supporters that Nawab Siraj-ud-Daulah's commanders-in-chief were "Mir Jafar and Mir Sadiq", which is a direct reference to Pakistan's institutions.
He said that if Imran Khan was not stopped from criticizing the institutions, Pakistan would soon become like Syria and Lebanon, where an anarchic situation has unfolded. Terming Khan's Abbottabad speech dangerous, he said that PTI Chairman is poisoning the minds of Pakistanis with his speeches targeting state institutions.
"The nation has been divided as Khan repeatedly called [the then-Opposition and now government] thieves and dacoits," PM Shehbaz said. "There can be nothing [worst] than the words he used for the institutions in his speech," the prime minister said.
PM Shehbaz added that the institution which Khan is targetting had "pampered him like a child" and he was "their favorite when he was in the government."
"I want to tell this house that this institution has not supported any government or prime minister in the last 75 years like it supported Imran Khan Niazi," PM Shehbaz said as he criticized the PTI chairman for failing to deliver.
"If it was not stopped using constitutional and legal means, it can lead to chaos. He (Imran Khan) wants to wind up the democratic system. Notice should be taken of his remarks. This should be controlled otherwise no one will be spared," he commented.
Quoting ex-ambassador to the United States Asad Majeed Khan — whose meeting with American officials was termed a "threat" by Imran Khan — PM Shehbaz said that the ambassador "wrote in the letter that they used a threatening tone, but there was no mention of a conspiracy."
The prime minister also mentioned that the National Security Council (NSC) meeting's statement was very clear in this regard, and it did not mention any conspiracy against Khan's government.
He said the same institution at the target of Imran Khan's criticism, had extended unprecedented support to Imran Khan's government which he was now referring to as Mir Jafar.
Shehbaz mentioned that in the past, US, Russian, and Indian governments had threatened Pakistan, but that did not mean that a country was conspiring against Islamabad.
Citing examples from history of threats to Pakistan, the prime minister said Henry Kissinger had threatened Zulfikar Ali Bhutto to roll back the nuclear program, US official Richard Armitage threatened that time Pakistan officials after 9/11 and Russia wrote a threatening letter to Yahya Khan.
The prime minister said the previous government did not import oil and gas on time, resulting in a power crisis. He also blamed them for importing expensive gas, which caused a "huge loss" to the national exchequer.