Gen Bajwa, Bill Gates discuss Pakistan's COVID-19 response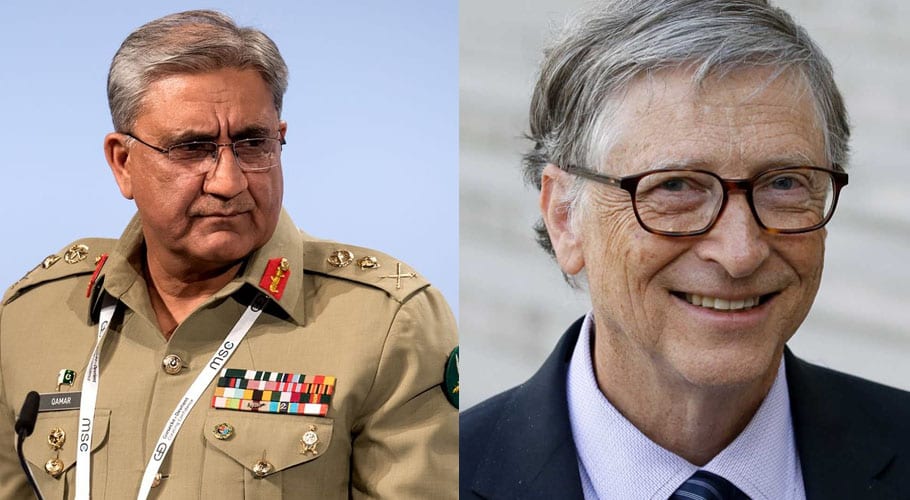 ISLAMABAD: Chief of Army Staff General Qamar Javed Bajwa has a telephonic conversation with philanthropist Bill Gates and discussed  Pakistan's COVID-19 response and resumption of polio eradication campaign.
General Bajwa said success against the COVID-19 pandemic has been achieved due to a true national response executed through the mechanism of National Coordination Committee which allowed optimisation of resources.
Bill Gates appreciated Pakistan Army for supporting government efforts to contain the coronavirus pandemic and Pakistan's success despite resource constraints.
They also discussed the efforts required for the safe start of polio eradication campaign.
Bill Gates reiterated his foundation's commitment to support Pakistan in its goals of ending polio and improving health for every child.
READ MORE: Bill Gates hails declining number of coronavirus cases in Pakistan
Earlier, the billionaire businessman has acknowledged that Pakistan is flattening the COVID-19 curve as the number of cases are declining in the country, terming a "success story."
In an interview with US media, Bill Gates hailed the coronavirus situation in Pakistan and said like Europe, they worked hard to bring down the number of cases.
Gates endorsed Pakistan's policies and said India by contrast doesn't look great. "The COVID-19 situation in India is similar to that of South America."
Earlier this week, Prime Minister Imran Khan spoke with Bill Gates to discuss the latest situation on COVID-19 response and resumption of polio vaccination campaign.
During the conversation, the prime minister apprised Bill Gates about the improved COVID-19 situation in Pakistan and shared that the 'smart lockdown' policy of the government has proven to be very effective.
READ MORE: PM Imran, Bill Gates discuss COVID-19 response, polio campaign
PM Imran Khan acknowledged the Gates Foundation's continued support to Pakistan and reaffirmed polio eradication as a key priority of the government. 
They agreed to enhance the program to ensure vaccination for all children, including in the remote areas. The prime minister expressed his confidence in Pakistan's ability to apply lessons from its COVID-19 response to eradicate polio.
Bill Gates acknowledged Pakistan's efforts to combat the pandemic while protecting the lives and livelihoods of vulnerable populations. Both agreed to continue their cooperation on shared priorities.