Electric poles fall in Karachi due to strong winds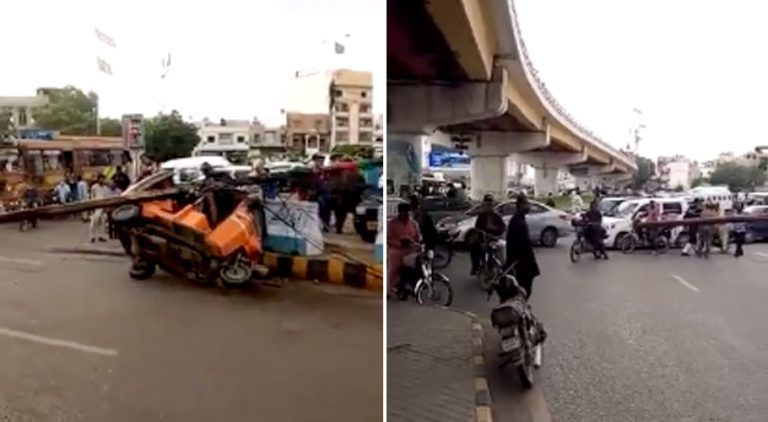 KARACHI: Accidents started happening in Karachi as soon as strong winds gripped the city before rain. Two electric poles fell on city's Rashid Minhas Road in Gulistan-e-Jauhar. 
According to details, due to strong winds in Gulistan-e-Jauhar area of ​​Karachi, K Electric's pool went on a rickshaw. Several people were on board the rickshaw, but fortunately all were safe.
Citizens said K Electric's second pool could collapse at any moment. Police say the poles fell on the road from the shopping mall parking lot, one of which fell on a rickshaw on the road, causing damage to the vehicle. However, the occupants were safe.
A power pole falling on the road has severely disrupted traffic, police said, adding that traffic was being diverted to the other side of the road.
In another area of ​​Karachi, Federal B Area Block 15, a tree fell on the wires. Residents of the area said that a complaint has been lodged with K Electric, however, the team has not arrived yet.
It should be noted that stormy winds are blowing in the coastal area of ​​Ibrahim Haidari in Karachi.
According to the Meteorological Department, rain has also started in different parts of Karachi. The areas that received rain include Site Area, Nazimabad, North Nazimabad, KDA and Surjani.